Events Calendar
Why attend a MEND event?
With at least 7,000 anti-Muslim hate crimes a year, systemic discrimination against Muslims in the workplace and relentless media negativity, there has never been a more important time to attend a MEND event and to learn more about tackling Islamophobia. Anti-Muslim hatred affects us all, just like racism and anti-Semitism. MEND unites communities to tackle Islamophobia. Sign up for an event below and learn more about the challenge at hand.

Events for 25th November 2019
Events Search and Views Navigation
Ongoing
Visit us at Kirkstall Abbey to see MEND's Islamophobia Awareness Exhibition at the Colonel North Room. Come along if you would like to learn more about how Islamophobia has manifested in the UK and you can also learn about the contributions of British Muslims to our society. The exhibition is completely free and you do […]
Find out more »
9:00 am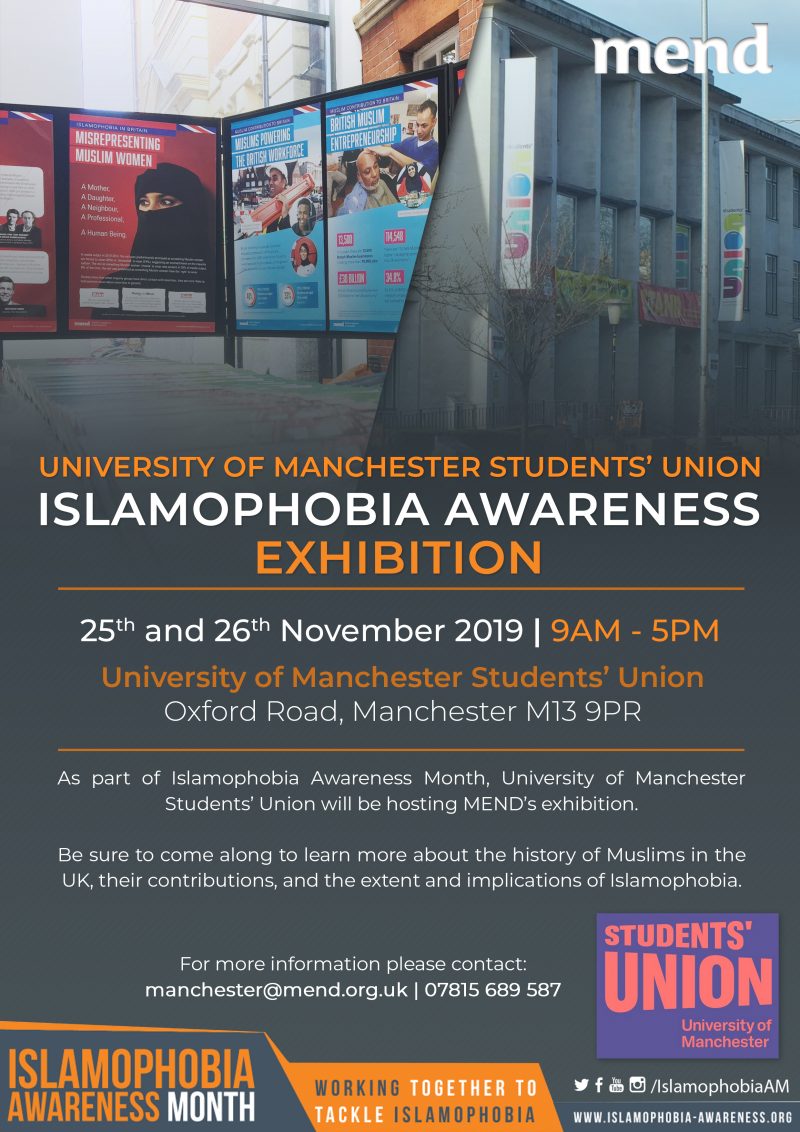 As part of Islamophobia Awareness Month, University of Manchester Students' Union will be hosting MEND's Islamophobia exhibition. Be sure to come along to learn more about the history of Muslims in the UK, their contributions, and the extent and implications of Islamophobia. There's no need to register, just pop by to view the exhibition […]
Find out more »
12:00 pm
MEND will be organising a conference at the TFL headquarters. This will be a unique opportunity to engage in an informative panel discussion, particularly focussing on Islamophobia and discrimination in the workplace. This conference will be hosting our founder Sufyan Ismail.
Find out more »
+ Export Events