Events Calendar
Why attend a MEND event?
With at least 7,000 anti-Muslim hate crimes a year, systemic discrimination against Muslims in the workplace and relentless media negativity, there has never been a more important time to attend a MEND event and to learn more about tackling Islamophobia. Anti-Muslim hatred affects us all, just like racism and anti-Semitism. MEND unites communities to tackle Islamophobia. Sign up for an event below and learn more about the challenge at hand.

Events for 8th November 2017
Events Search and Views Navigation
All Day
Cardiff MEND, as part of  IAM 2017, comes to Cardiff Met Cyncoed with this informative and educational exhibition! Come along and learn more about Islam, Muslims in the UK, and the causes of the recent rise in Islamophobia. More importantly, find out what you can do to help us in our efforts to stop the hate.
Find out more »
Ongoing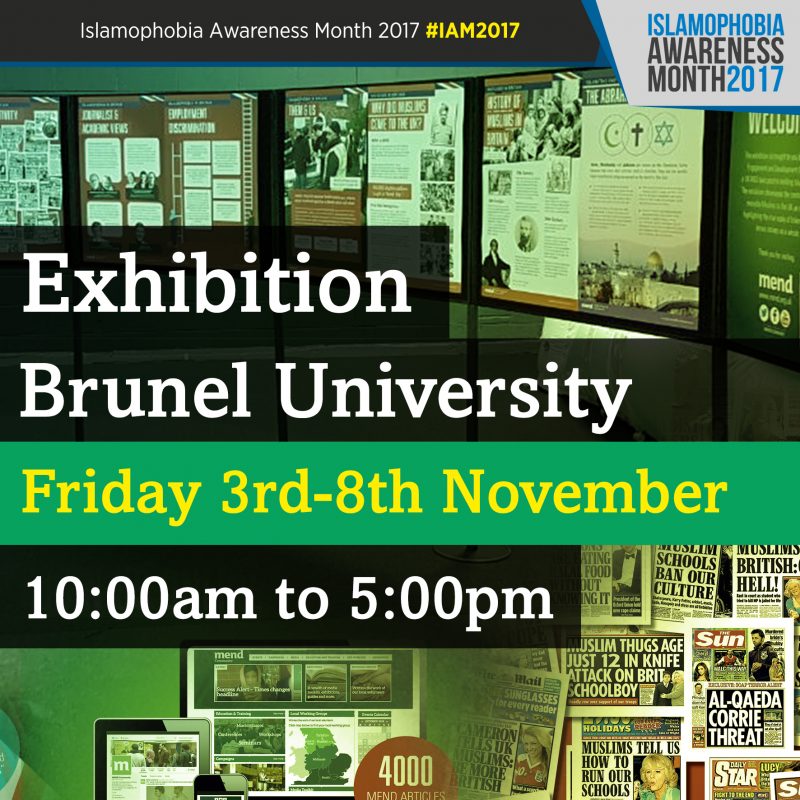 Come and join us at our open exhibition for people to view. There will be volunteers to help guide a member of the public through the display which celebrates positive contributions of British Muslims, dispose of common myths about British Muslims and highlights the media's role in perpetuating anti-muslim prejudice. For more information about this […]
Find out more »
Come and join us at our open exhibition for people to view. There will be volunteers to help guide a member of the public through the display which celebrates positive contributions of British Muslims, dispose of common myths about British Muslims and highlights the media's role in perpetuating anti-muslim prejudice. For more information about this […]
Find out more »
10:00 am
Come and join us at our open exhibition for people to view. There will be volunteers to help guide a member of the public through the display which celebrates positive contributions of British Muslims, dispose of common myths about British Muslims and highlights the media's role in perpetuating anti-muslim prejudice. For more information about this […]
Find out more »
+ Export Events