MENDtalks: The Muslim Youth Experience
Date: 06 Jul 2020
Time: 8:00am - 9:00pm
Venue: Online via Zoom Conference link,
About this event: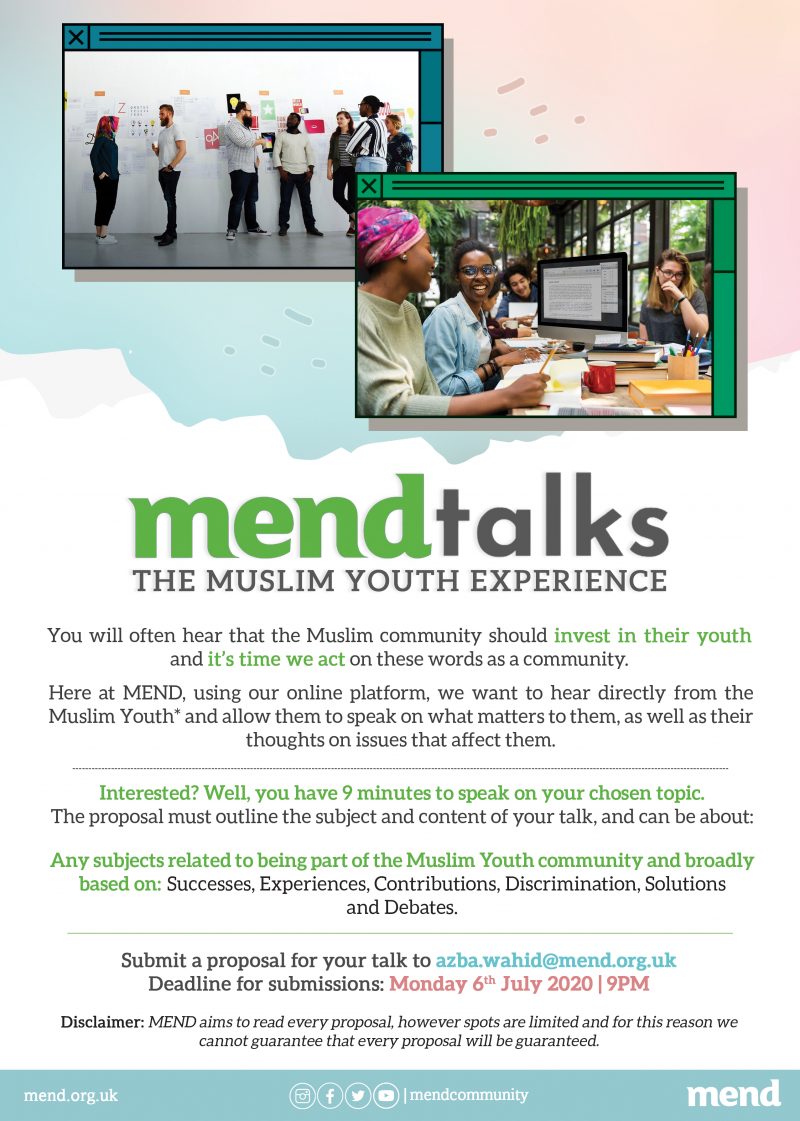 You will often hear that the Muslim community should invest in their youth and it's time we act on these words as a community.
What does it mean to grow up Muslim in this day and age? How does the current socio-political climate affect Muslim identity amongst the youth?  What does empowerment for the Muslim Youth really mean, and what does it look like?
Here at MEND, using our online platform, we want to hear directly from the Muslim Youth* and allow them to speak on what matters to them, as well as their thoughts on issues that affect them.
Interested? Well, you have 9 minutes to speak on your chosen topic.
Please submit a proposal outlining the subject and content of your talk, which can be:
On any subjects related to being part of the Muslim Youth community
Broadly based on the following categories: Successes, Experiences, Contributions, Discrimination, Solutions, Debates
Submit a proposal for your talk to azba.wahid@mend.org.uk
DEADLINE for Submissions Monday 6th July 2020 at 9PM
*We are open to definitions of the Muslim Youth and to allow for variety in speakers we are broadly using the bracket of 16-30-year olds.
DISCLAIMER: MEND aims to read every proposal; however, speaker spots are limited and for this reason we cannot guarantee that every proposal will be accepted for the event.