Islamophobia – Roots, Consequences and Solutions
Date: 21 Mar 2018
Time: 6:00pm - 8:00pm
Venue: Institute of Arab and Islamic Studies, The University of Exeter
Exeter, EX4 4ND United Kingdom
About this event: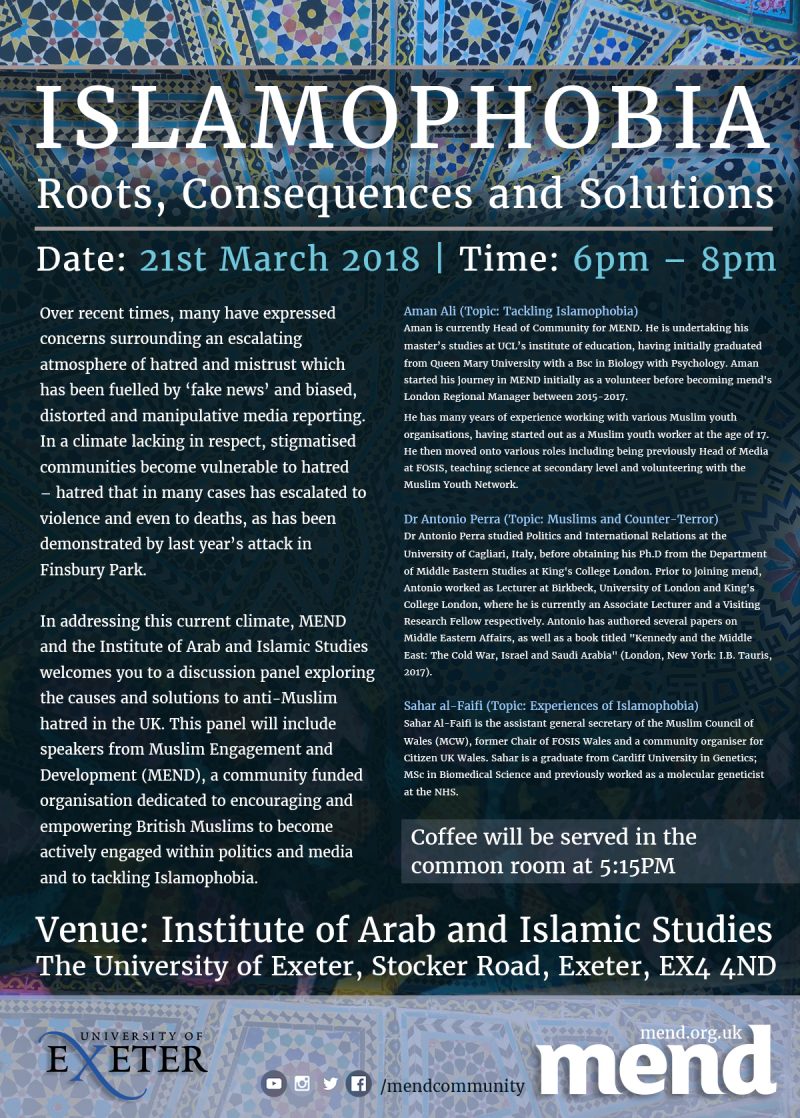 Over recent times, many have expressed concerns surrounding an escalating atmosphere of hatred and mistrust which has been fuelled by 'fake news' and biased, distorted and manipulative media reporting. In a climate lacking in respect, stigmatised communities become vulnerable to hatred – hatred that in many cases has escalated to violence and even to deaths, as has been demonstrated by last year's attack in Finsbury Park.
In addressing this current climate, MEND and the Institute of Arab and Islamic Studies welcomes you to a discussion panel exploring the causes and solutions to anti-Muslim hatred in the UK. This panel will include speakers from Muslim Engagement and Development (MEND), a community funded organisation dedicated to encouraging and empowering British Muslims to become actively engaged within politics and media and to tackling Islamophobia.
Speakers include:
Aman Ali (Topic: Tackling Islamophobia)
Aman is the Head of Community for MEND. He is undertaking his master's studies at UCL's institute of education, having initially graduated from Queen Mary University with a BSc in Biology with Psychology. Aman started his journey in MEND initially as a volunteer before becoming mend's London Regional Manager between 2015-2017.
He has many years of experience working with various Muslim youth organisations, having started out as a Muslim youth worker at the age of 17. He then moved onto various roles including being previously Head of Media at FOSIS, teaching science at secondary level and volunteering with the Muslim Youth Network.
Dr Antonio Perra (Topic: Muslims and Counter-Terror)
Dr Antonio Perra studied Politics and International Relations at the University of Cagliari, Italy, before obtaining his Ph.D from the Department of Middle Eastern Studies at King's College London. Prior to joining MEND, Antonio worked as Lecturer at Birkbeck, University of London and King's College London, where he is currently an Associate Lecturer and a Visiting Research Fellow respectively. Antonio has authored several papers on Middle Eastern Affairs, as well as a book titled "Kennedy and the Middle East: The Cold War, Israel and Saudi Arabia" (London, New York: I.B. Tauris, 2017).
Sahar al-Faifi (Topic: Experiences of Islamophobia)
Sahar Al-Faifi is the assistant general secretary of the Muslim Council of Wales (MCW), former Chair of FOSIS Wales and a community organiser for Citizen UK Wales. Sahar is a graduate from Cardiff University in Genetics; MSc in Biomedical Science and previously worked as a molecular geneticist at the NHS.