The Riz Test Manchester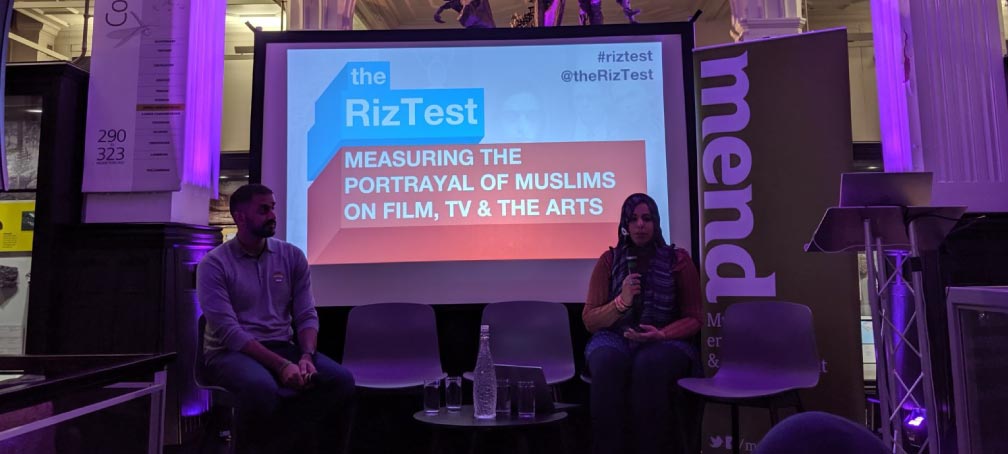 Categories: Past Event Articles
Monday November 25 2019
On Thursday 7th November, the Riz Test team brought their workshop to Manchester Museum as part of Islamophobia Awareness Month. Under a glorious T-Rex, the founders of the test spoke about the academic theory behind it, some real life examples and, introduced high school students who had done their own research using the Riz Test.
The Riz Test aims to measure the portrayal of Muslims in film and TV and uses 5 criteria to do this.
The team discussed the origins of the test and how meeting through MEND Manchester gave Shaf and Dr Sadia, founders of the Riz Test, the opportunity to meet and start up the movement. Dr Sadia spoke about the academic underpinnings and the influence of the likes of Edward Said and Jack Shaheen. The importance of representation has long been established as, for many, mediums like film, TV and the news are the primary sources of their interaction with Muslims.
Shaf took the theory behind the test and applied it to the Marvel and DC universes to illustrate how these have been used to perpetuate stereotypes of Muslims both in print and on the big screen. BBC's The Bodyguard was also given the Riz Test treatment and shockingly failed all five criteria in the first 12 minutes of the first episode.
High school students from Manchester Islamic Grammar School for Girls then showcased the project they had been working on over their half term. Following guidance from Dr Sadia, they used the Riz Test to discuss the portrayal of Muslims in contemporary film and TV shows. The students spoke of Skam, a Norwegian TV show, which passed the test. They discussed what they felt was accurate representation of teenage Muslim girls (as evidenced by the research done by the students) and spoke of personal connections they had established with the show due to these sympathetic portrayals, rooted in their own experiences.
Overall, the event was a huge success and drew a mixture of academics, students and Manchester locals to learn more about measuring Muslim portrayals. Many thanks to everyone who came, Dr Sadia, Shaf, the students from Manchester Islamic Grammar School for Girls. We're also grateful to Manchester Museum for hosting us in a beautiful venue, to University of Manchester's Student Union for their continued support and to the volunteers at MEND Manchester for all their hard work behind the scenes.
Check out MEND's event page to find more events taking place over Islamophobia Awareness Month near you.
For a blog post on this event from one of our attendees, be sure to click here.