MENDtalks: What Muslim Women Want You to Know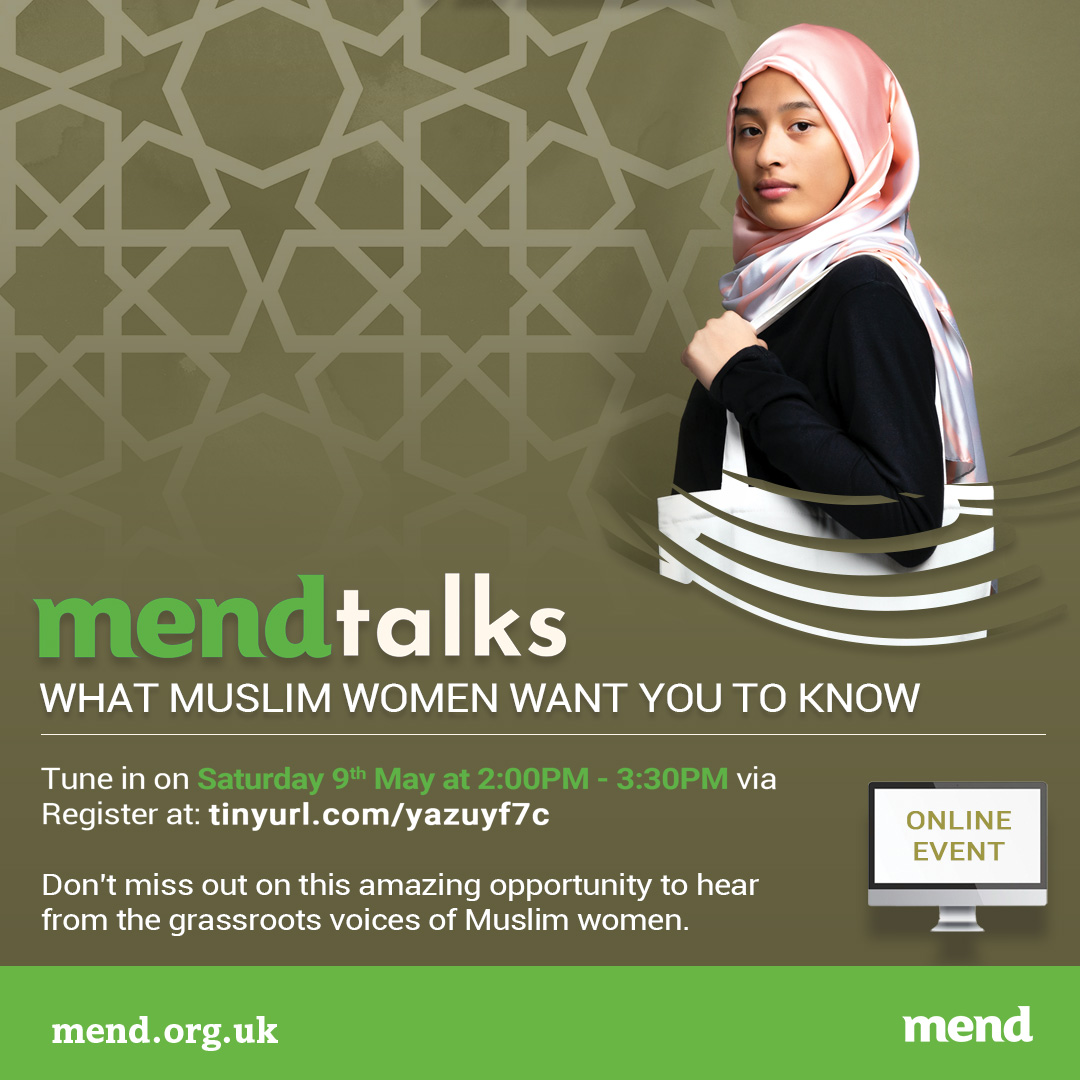 Categories: Past Event Articles
Wednesday May 13 2020
On Saturday 9th May, MEND held their first online webinar where 6 Muslim women came together to discuss topics and experiences that matter to them. This was a great chance to hear from the grassroots voices of Muslim women. Our speakers covered a range of topics from academic journeys to domestic violence. Each and every speaker touched on serious issues affecting Muslim women while interweaving their own personal narratives into their talks.
Our first speaker, Hina Junejo, who is a Leadership Development Consultant, Lecturer & an Empowerment Coach by profession, told the story of her own experience with domestic violence and how this has fuelled her work and profession. Hina shared her journey of leaving her home country to come to the U.K., where she worked hard and was determined to be reunited with her children whom she had been separated from because of her divorce. Through everything she has learnt from her own experiences, Hina is now determined to help others in similar situations. Since recovering from her difficult experiences and returning stronger, Hina has gone on to support victims of domestic violence through her business, Hina's Holistic Healing, and she also runs her own women's empowerment programme called Saheli (available on Sky 749).
Following this, our second speaker, Ghazala Tehseen, spoke on the importance of having conversations about period poverty in Muslim communities. Ghazala is a fourth year medical student with an interest in women's health. She founded The Period Poverty Project – a Manchester-based organisation that aims to supply and distribute free menstrual products to those who do not have access to, or can't afford them, particularly focusing on Muslim/BAME communities. Ghazala explained to the audience that the stigmatisation of periods in both Muslim and non-Muslim communities has led to some women and young girls putting their health at risk, as well as the injustice of the tax placed on menstrual products. Recently, Ghazala and The Period Poverty Project have made it their objective to help women who are unable to access menstrual products during the lockdown by partnering with local mosques and food banks to get these products to women and girls who need them.
Our third speaker, Saiqa Riad, is a Relationship Coach and a NLP (Nero Linguistic Programming) Practitioner, as well as an author. Saiqa has been lecturing since 2013 and has coordinated a Mental Health Support Group. As part of her work as a Relationship Coach, Saiqa has produced a 100-part video series titled 'Relationship Revival' and has been featured on Islam Channel, British Muslim TV and Ummah Channel. Saiqa is regularly delivering personal development workshops in the UK and is continuing to do this online since the COVID outbreak. In her talk, Saiqa provided some advice for our audience through 'The Ultimate Success Formula' which provides women with a step-by-step guide to achieving their objectives, while being spiritual, accountable and realistic.
Dr. Salma Al-Arefi, who was our fourth speaker, is an award-wining teaching fellow in Electrical Power Systems and a member of the inclusive teaching committee at the School of Electronics and Electrical Engineering, University of Leeds.  She has been actively involved in promoting women in Science, Technology, Engineering, and Mathematics (STEM) and in closing the BAME awarding gap. Salma spoke of her extraordinary achievements in securing a place to study in the U.K., which was almost unheard of for a Muslim women from her small town in Libya. Salma moved to the U.K. without knowing anyone and without knowing much English. Since her move, Salma has worked hard to challenge negative stereotypes about Muslim women and women in STEM. Dr. Al-Arefi even faced negativity from her own professors who told her that she would struggle to get where she wanted do, and despite all this Salma has succeeded and continues to work tirelessly.
The penultimate speaker for our event was Andrea Hunt, who is an advocate for Foster Caring. Andrea has three children of her own and is a single foster carer to 3 Afghan asylum-seeking young people. Her story has allowed her to facilitate Islamic awareness courses run by Aksa and regularly speak about fostering and my reversion to Islam, up and down the country. Recently, Andrea has contributed to Eman Channel's 'Talk to Me' programme. Andrea discussed in-depth her experience with foster caring and how she turned to Islam because of this act. Along with her reversion, Andrea has gained a beautiful extended family through foster caring and an understanding and appreciation for mothers who have given up their children in order for them to have a better life. Our audience were keen to learn more about how they can get involved with foster caring as Muslims.
Our final speaker was Madiha Ansari, who is a freelance writer and performer, community arts producer, and social media creative change maker with a special interest in developing South Asian engagement towards the Arts in West Yorkshire. She is the founder of The Cultural Ecology Project which aims to develop mentorship pathways for BAME female artists. In her talk, Madiha highlighted how much she had in common with the other speakers in terms of experiences despite the vastly different backgrounds that they all came from. She discussed how she had to find the middle ground between raising her children while developing her career, and when she was able to find this balance, it was incredibly freeing. Madiha also discussed her work on The Trojan Horse play and her collaboration with MEND while the play was touring last year and earlier this year. Overall, Madiha showed the possibility of connecting the community and their struggles through the arts and creative platforms.
If you missed our webinar and interested in watching, please keep an eye on our Facebook (@mendcommunity) as we will be uploading the webinar soon.