MENDtalks: The Muslim Youth Experience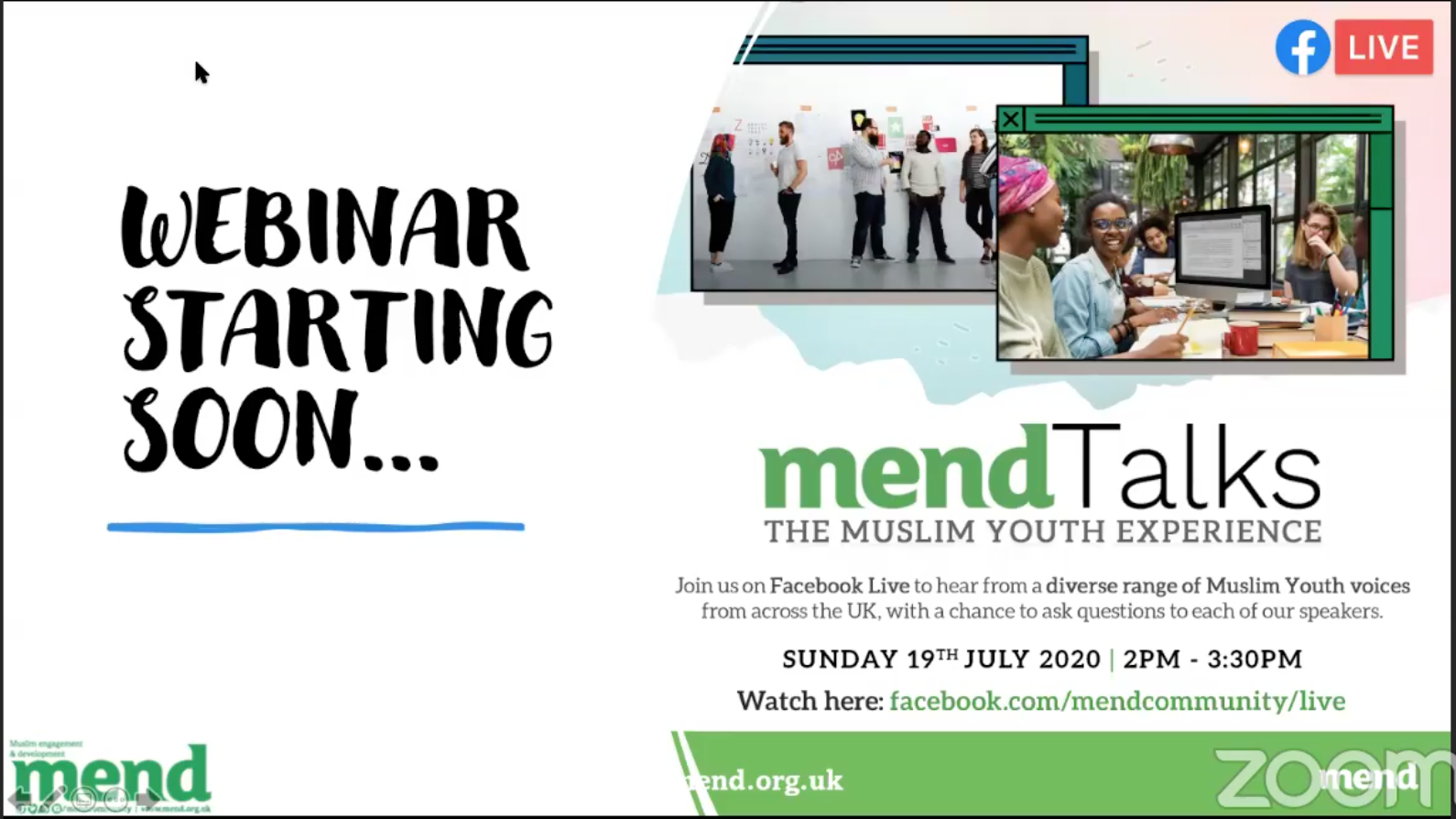 Categories: Past Event Articles
Monday July 20 2020
Over the weekend our Yorkshire team held another instalment of MENDtalks, this time we explored the topic of the Muslim Youth Experience with our four speakers. Like previous MENDtalks, this webinar aimed to hear the grassroots voices of the Muslim Youth and was hosted by MEND Volunteer Hiba Mukhtar.
Our four speakers covered a number of topics:
Shoaib Hussain – Vision with The Youth
Maryam Zaynah – Why We Don't Need Feminism
Hamza Ahmed – Breaking the Bubble
Maryam Shah – Muslim Women You Need to Know
Our first speaker, Shoaib Hussain, discussed how essential vision is when it comes to working with the youth and he drew examples from his own experience in the field. Shoaib is an experienced youth worker with 10+ years of experience working with young people in his own community. He is a Youtuber, khateeb, activist and currently works as the Youth Development Manager for Islamic Network. You can also follow Shoaib's work using his social media handle: @thesunnahguy
Following Shoaib we had Maryam Zaynah who framed her topic on discussing feminism and Islam. She explained how she drew empowerment from her religion rather than feminism, and she explained some of the struggles faced by young Muslim women. Maryam Zaynah is an 18 year old student based in Manchester, who is hoping to study International Relations at university later this year. Maryam has a blog where she writes articles on a range of topics including: politics, religion, and travel, as well as this she has also freelanced for online publications.
Our penultimate speaker was Hamza Ahmed, who, like some of the other speakers drew on his own past experience. Through his own story he was able to provide insight into some struggles faced by the Muslim youth today. Hamza also works for Islamic Network as their Community Development Manager. Islamic Network aim to empower and support mosques to engage and nurture their local youth. You can keep up with their work at IG @islamic.network FB: fb.com/islamicnetwork
The last speaker, Maryam Shah, gave a powerful presentation on 8 Muslim women role models from the past and present. All of our speakers agreed on the importance of having good role models to guide the Muslim youth of today. Maryam Shah is a 21-year old Masters Student in Law at LSE. She is an Aziz Foundation Scholar and serves on the National Union of Student's Democratic Procedures Committee. Maryam is passionate about politics and especially cares about empowering Muslim youth to make a difference.
Following all of our speeches, we had a Q&A session where the speakers answered questions from viewers. If you missed out on this live stream you can catch up on our Facebook page, please click here.