MENDtalks: Muslim Experiences in the Criminal Justice System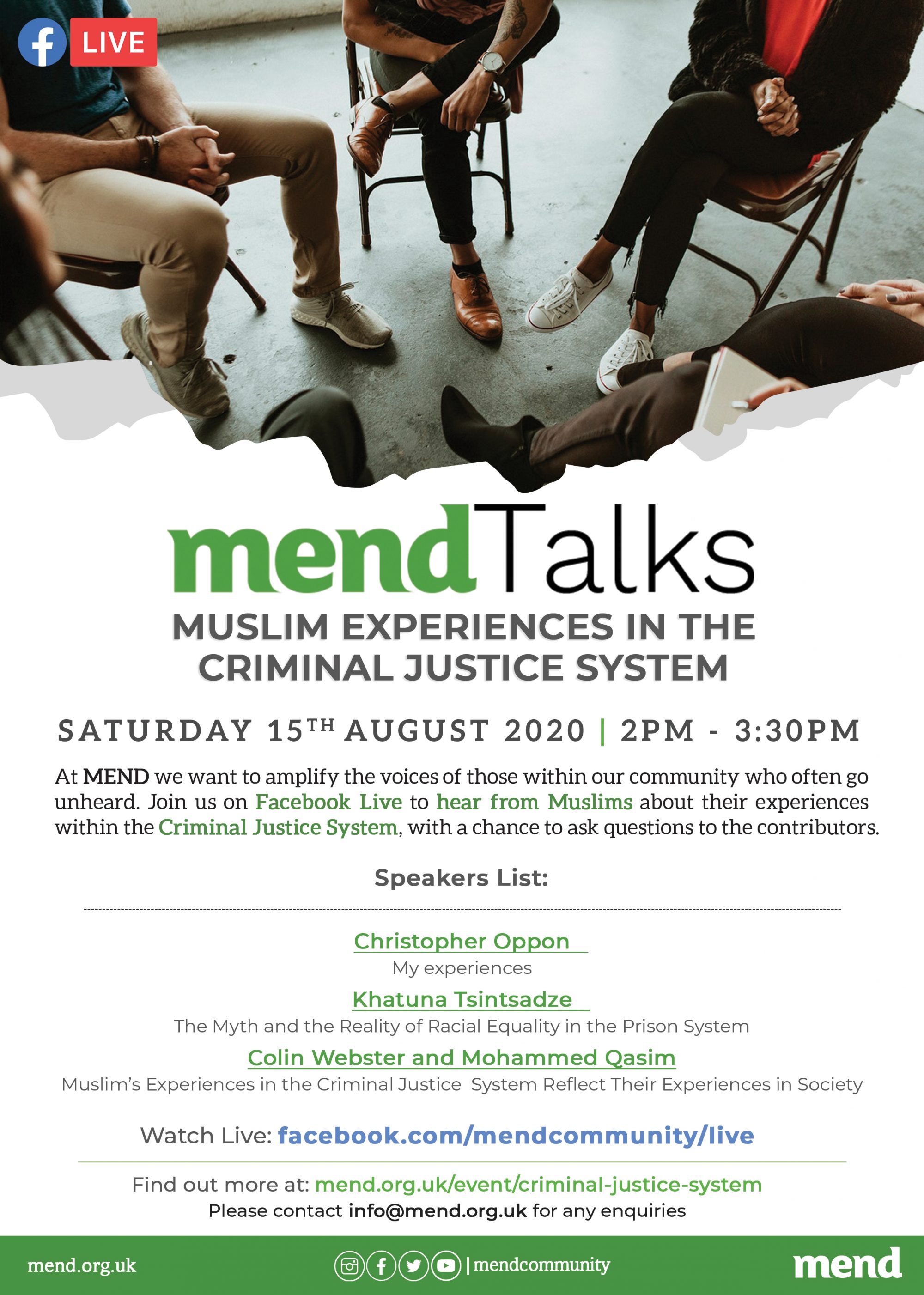 Categories: Past Event Articles
Wednesday August 26 2020
On Saturday 15th August, MEND Oldham's first webinar was broadcast on our social media. The webinar sought to platform individuals to speak about Muslim Experiences in the Criminal Justice System (CJS). 
The reason the working group felt this was an important topic that needed to be addressed was due to the increasing number of Muslims in the CJS and the relatively low visibility their voices and experiences are given within our community and beyond.
To secure our panel of speakers, we put a call out to ask for proposals and received interest from a number of individuals and groups. During this process, we engaged with ex-offenders, prison chaplains, academics and activists leading in this area and learnt about stigma and difficulties associated with re-entering society as a Muslim ex-offender. We heard countless stories from ex-offenders about the difficulties of talking about their experiences in public and how being in the system was a constant barrier that they would have to overcome. Speaking about and to Muslim women ex-offenders, we found that this stigma and these barriers were more pronounced along gender lines. This is due to increased alienation both within and outside of the Muslim community. The lack of support afforded to women in these situations can have hugely negative impacts on their ability to rehabilitate and rejoin society. For this reason, we appreciated and understood the lack of Muslim women who were ex-offenders that were willing to speak out about their experiences.
During the webinar, Musa (Chris) Oppon was the first of our contributors to discuss their experience. Musa served 4.5 years in prison and now manages a halal online organic butchers. During his talk, he discussed the three challenges associated with being an ex-offender:
1)  Struggle with self – Musa discussed how it's important to tackle this because, without it, success cannot occur.
2) Struggle with family – he highlighted how you can't run away from family, but you need to deal with them in a loving manner because family (parents) have such a high status in Islam.
3) Struggle with the workplace – the combination of being cut off from society (when in prison) and being shy to work on site and fearing the workplace doesn't like Muslims can be a huge barrier to overcome. By tackling issues with one's self, it will help to build confidence to help progress.
Our next contributor was Khatuna Tsintsadze is a Co-director of the Zahid Mubarek Trust (ZMT). She spoke about 'The Myth and the Reality of Racial Equality in the Prison System' and she discussed the structural issues that have to be tackled in order to ensure that there is a just approach to this. Data shows that Muslims are affected by racist language in prisons – both subtle and aggressive forms. Khatuna mentioned how race and religion are inseparable for prisoners and our understanding of this is key- by understanding race inequality we can begin to understand the experiences of Muslim prisoners. 
Our final contributor was Professor Colin Webster whose talk was titled 'Muslims' Experiences in the Criminal Justice System Reflect Their Experiences in Society'. He highlighted how Pakistanis and Bangladeshis have the lowest pay in secure employment, and how Muslim men seem to be overqualified for the sort of jobs they do. He discussed how young men cycle between prison and neighbourhoods, and the link that is missing is employment opportunities. Muslim ex-offenders find it difficult to find work because of a criminal record. The discrimination they face because of their record and their ethnicity allows the prison cycle to continue.
The webinar brought about interesting conversations, especially during the panel session, regarding rehabilitation and the issues with the CJS. Many thanks to Omar Begg for expertly hosting the session and guiding the conversation. We especially appreciate the input of Musa Oppon, Khatuna Tsintsadze and Prof Colin Webster for agreeing to speak on their experiences and research on this topic. We hope to continue our work in this area with their support.
To catch up be sure to visit our FB page here.