MENDreport: Srebrenica 25 years on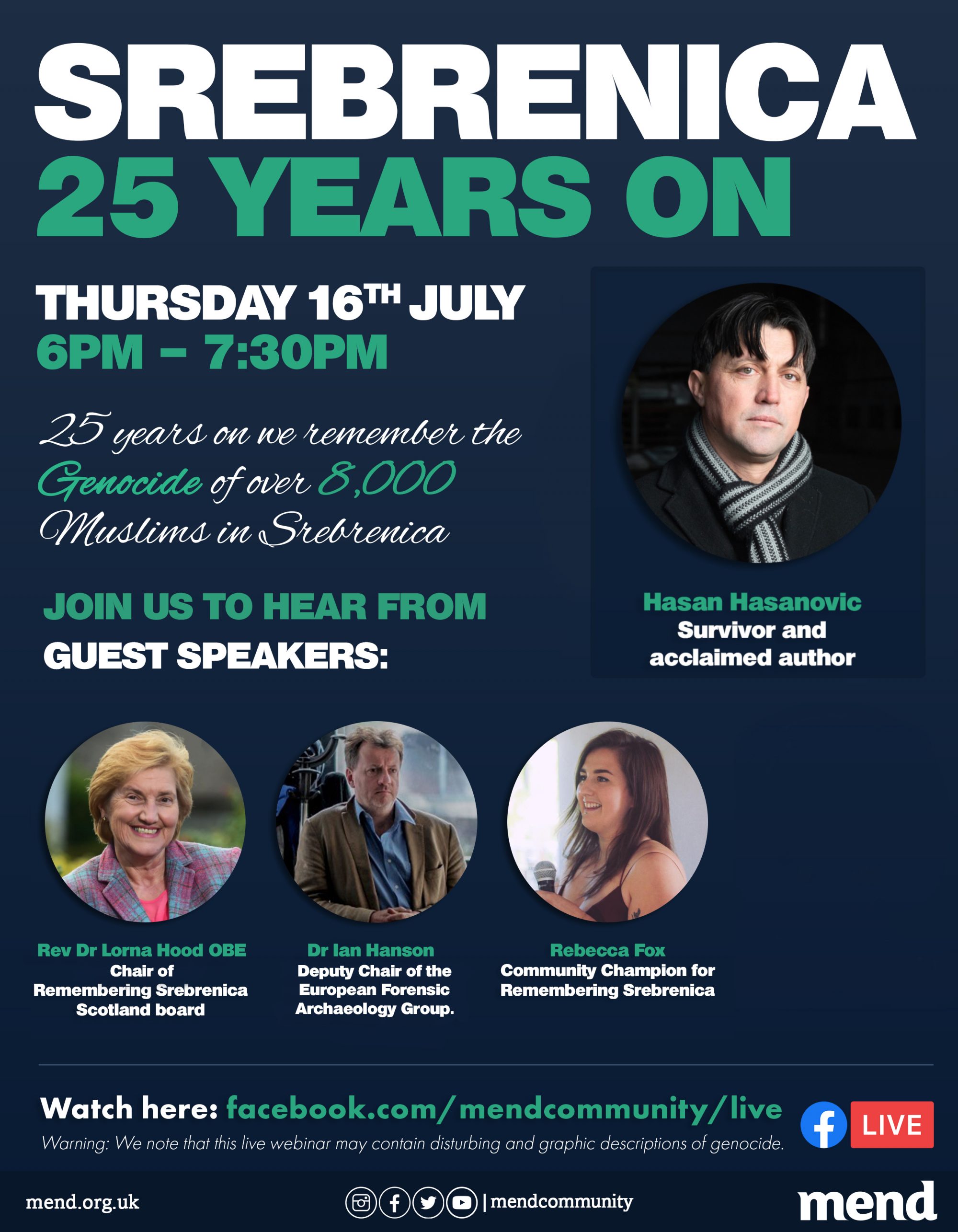 Categories: Past Event Articles
Monday July 20 2020
25 years on from Europe's largest genocide since world war II, where over 8,000 Muslim men and boys were murdered, we heard from:
Hasan Hasanovic, genocide survivor and acclaimed author who spoke of his lived experience of the genocide in Srebrenica and the loss of his twin brother and father in the massacre.
Hasan spoke of his work at the Srebrenica Memorial Centre in Bosnia and why it is important that we continue to highlight the atrocities that took place just 25 years ago in Europe. He spoke of how Srebrenica is forgotten about today in the same way it was at the time of the genocide by the international community. He highlighted how we have to ensure that all of us do what we can to prevent the atrocities from being forgotten about and history repeating itself.
Hasan was joined on the panel by the Very Rev Dr. Lorna Hood Chair of Remembering Srebrenica Scotland, who has personally led many groups from Scotland to Srebrenica to highlight the plight of the people of Srebrenica.
They were joined by panellist Dr Ian Hanson, forensic scientist, who worked on the ground at the primary and secondary mass graves of the victims of the Srebrenica genocide. He explained the role forensic science plays in gathering evidence for criminal trials, in silencing the deniers and bringing answers to the families of the victims.
Rebecca Fox community, champion explained, the importance of working with all levels of civil society, education facilities and government to ensure all are properly informed about the genocide in Srebrenica.
To watch the full webinar please view the following link: https://www.facebook.com/watch/?v=339177724146136
Please note the webinar contains description of genocide and excavation of mass graves.