The Home Office must ensure it protects vulnerable women – not exploit their situation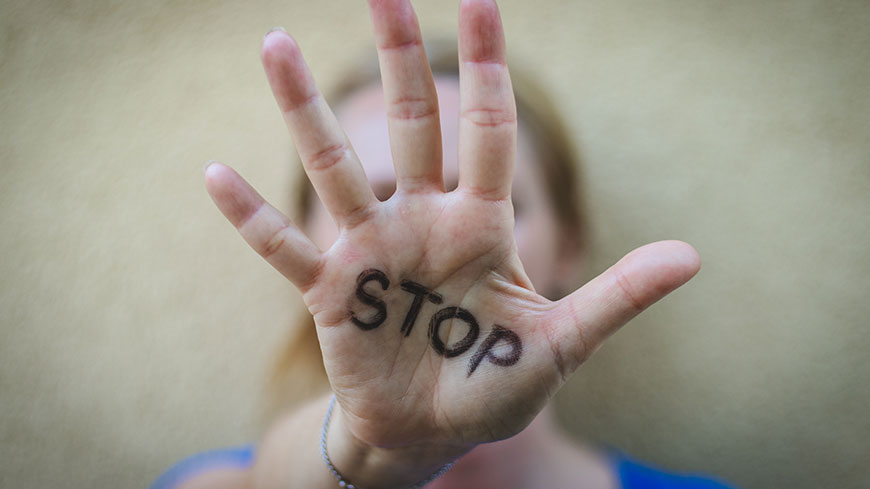 Categories: Latest News
Wednesday September 30 2020
Last month, more than 30 organisations and academics with a track record of campaigning against violence against women and girls wrote an open letter to the Home Secretary, Priti Patel, to express concerns about the PREVENT strategy and its infiltration into domestic violence services.
The letter expresses concerns that the Home Office and Counter Terrorism Police are, as part of PREVENT, seeking to research "links between suspects of domestic abuse and extreme views, which can manifest into terrorism," and goes on to ask why the counter-terrorism agenda is focusing on domestic abuse in this manner.
This latest development in the Government's counter-terrorism strategy serves as further illustration of the dangerous consequences of inappropriately framing PREVENT as a form of safeguarding.
Considering the significant existing barriers that can prevent vulnerable women and girls from seeking help, the additional threat of the involvement of counter-terror apparatus can only further deter women from accessing the support that they need, thereby placing them at greater risk of abuse, violence, and even death. Far from providing safeguarding to such women, it can only exacerbate the harms which they face.
The PREVENT duty has been repeatedly challenged for its apparent abuse of surveillance powers. Back in October 2019, it emerged that counter-terror police had been compiling a secret database of thousands of PREVENT referrals, without the knowledge or consent of individuals, under the guise of safeguarding. More recently, Dr Hilary Aked unearthed how colleges are potentially sharing young people's data with the help of counter-terrorism police and the DfE.
These examples illustrate that the Government has an uncomfortable track record of infringing upon the civil liberties of individuals and communities under the guise of safeguarding. This serves to compound and reinforce existing criticisms of the Government's counter-terrorism strategy.
The strategy being embedded within safeguarding creates grey areas and confusion in how to approach safeguarding needs. As concluded by the civil rights campaigners, Liberty: "while everyone in society has moral and ethical obligations to report suspected criminality, requiring teachers and others in sensitive positions of trust to report those with dissenting views risks undermining professional obligations of confidentiality, sewing mistrust, and pushing those with grievances further underground." Research has also shown that less than half of NHS staff agree that PREVENT is a genuine safeguarding procedure, with safeguarding professionals alerting researchers of the significant differences between PREVENT safeguarding and established safeguarding practice.
What these findings suggest is that, due to the risks the strategy entails of pushing those with grievances towards suppressing them, PREVENT's intrusion into domestic abuse could actually serve to deter women from coming forward and accessing help, thereby placing them at greater risk.
As the signatories to the open letter point out, "PREVENT has been severely criticised for its weak evidence base, which is driven by flawed theoretical assumptions about the process of radicalisation." Indeed, The lack of adequate training and a lack of viable definitions of "extremism" and "radicalisation" has led to a situation where every day normative practices of the Islamic faith (such as wearing the hijab or going on Hajj, for example), cultural practices (watching an Arabic news channel), or taking an interest in politics (criticising foreign policy) can be seen as a sign of being drawn to political violence.
Taking PREVENT in the NHS as an example, research conducted by Warwick University found that 70% of the respondents "were 'likely', or 'very likely'" to refer someone for the "possession of Islamic/Anarchist philosophy books".
Such an observation is an important one, as despite the PREVENT training programme not indicating possession of such Islamic material as a factor indicative of radicalisation, the fact some people see it as such is reflective of the structurally Islamophobic nature of PREVENT. The authors of the Warwick University research, in line with the overarching concerns surrounding PREVENT, conclude that "respondents are drawing their attitude from popular culture rather than official training or academic research".
Indeed, Muslim women suffer continuous othering and stereotyping. Consequently, the lack of definitions and inadequate training creates unhelpful assumptions that impact the level of care as well as women's willingness to come forward. For example, some may feel that should they reveal their own abuse and seek help, not only will they be confirming stereotypes of Muslims as sexist and abusive but – as a result of the new intrusion of PREVENT into the sphere of domestic abuse – their experience will also be used to try and paint Muslims as terrorists and extremists at the same time. Therefore, the plans of the Government may be interpreted by some as an exploitation of the unfortunate situation faced by victims of domestic abuse and violence. Moreover, it can only further entrench existing stereotypes surrounding Muslims – a narrative which the signatories to the open letter observe to be a means to "justify racist action."
The track record of PREVENT in matters of misusing powers of surveillance, the uncomfortable amount of "false positive referrals" it has caused, and the weak evidence base it is founded on, make it a particularly problematic policy. To manufacture its legitimacy by exploiting women subjected to domestic abuse and violence cannot be allowed.
MEND is of the firm belief that PREVENT should be repealed and further calls on policymakers to commit to independently reviewing all counter-terrorism legislation enacted since 2000 with a view to curbing the encroachment of counter-terrorism policies on civil liberties. We are currently monitoring the situation with regards to the status of the independent review, and working with other organisations to ensure that any independent review of PREVENT is fit for purpose.