The Covid-19 pandemic must not mean the over-policing of minorities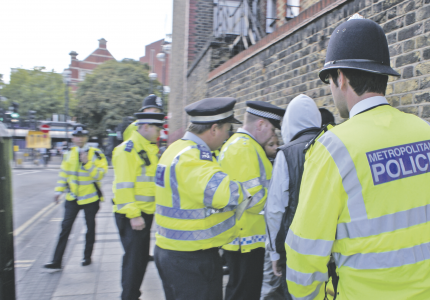 Categories: Latest News
Wednesday May 06 2020
A cross-party group of MPs has written to the Home Secretary, Priti Patel, warning that ethnic minorities must not be unfairly targeted by police forces in the exercise of their powers to enforce the Coronavirus lockdown.
This warning is not without merit. Some police forces have demonstrated a track record of disproportionately targeting people from ethnic minority communities, particularly concerning powers of stop and search.
BAME and Muslim communities need assurances that in this time of crisis, their civil liberties are not compromised. The best way to do this is through transparency. The Home Office must regularly publish statistics and reports regarding detailed demographics of those who are stopped, and ongoing transparency regarding training and procedures to address unconscious bias.
There is an established history of accusations of a discriminatory application of stop and search powers by the police. The ratio of Black to white stops increased from 5 to 1 in 1999 to 8 to 1 in 2002. Indeed, the most recent government data on stop and search between April 2018 and March 2019 shows little sign of improvement. The stop and search rate for Asian and mixed people is 11 in every 1,000 people; for black people it is 38 in every 1,000; while for white people it is just 4 in every 1,000. According to StopWatch, in 2018/19 in London, Asians and people from mixed ethnic backgrounds were searched at approximately 1.5 times the rate of white people
What these statistics suggest is that, even under ordinary circumstances, minority communities are disproportionately subject to policing measures. In this pandemic, minority communities need assurances in place to ensure that these problems are not exacerbated.
Indeed, being subjected to stop and search procedures has been shown to have quite a detrimental impact on a person's sense of identity and belonging. As the Equality and Human Rights Commission (EHRC) noted in a report in 2011, "For many young Muslim men on the streets, stop and search under Section 44 of the Terrorism Act (s44) has become their most frequent and regular contact with the police… Such measures were seen to add to perceptions of racial and religious profiling and discrimination."
The College of Policing has also said that: "There are substantial risks associated with stop and search being used incorrectly or inappropriately…disproportionate use of stop and search against particular social groups—most notably black and minority ethnic groups and young people—may increase their perception that they are being targeted unfairly."
It went on to say that: "Perceptions of the police making unfair decisions and being disrespectful are linked with lower levels of police legitimacy…this in turn reduces the public's willingness to not break the law and cooperate with the police, eg, by not reporting crime, suspicious activity or providing information…likely to make the police's job harder in the long run."
Covid-19 does not discriminate, yet the results of unintended and unconscious bias of those tasked with managing the pandemic has the potential to divide and entrench perceptions of discrimination and inequality within our society. It is therefore crucial that the police and Home Office take steps to mitigate against this.
The use of powers by police which are exercised in a discriminatory manner prove to carry more setbacks than benefits, particularly with regard to belonging, cohesion, and trust in the legitimacy of the police.
Rather than a time to aggravate these feelings of alienation and mistrust, the pandemic should be one where members of society come together. The Home Office and police forces must, therefore, commit to the preservation of human rights and the protection of minority rights. Not only should there be a thorough and continuous monitoring of the use of emergency powers by police during the pandemic, there should also be long-term plans for the training and application of stop and search powers to be revisited, including through the publication of statistics and reports regarding detailed demographics of those who are stopped, and ongoing transparency regarding train