Tanmanjeet Singh Dheshi vs Boris Johnson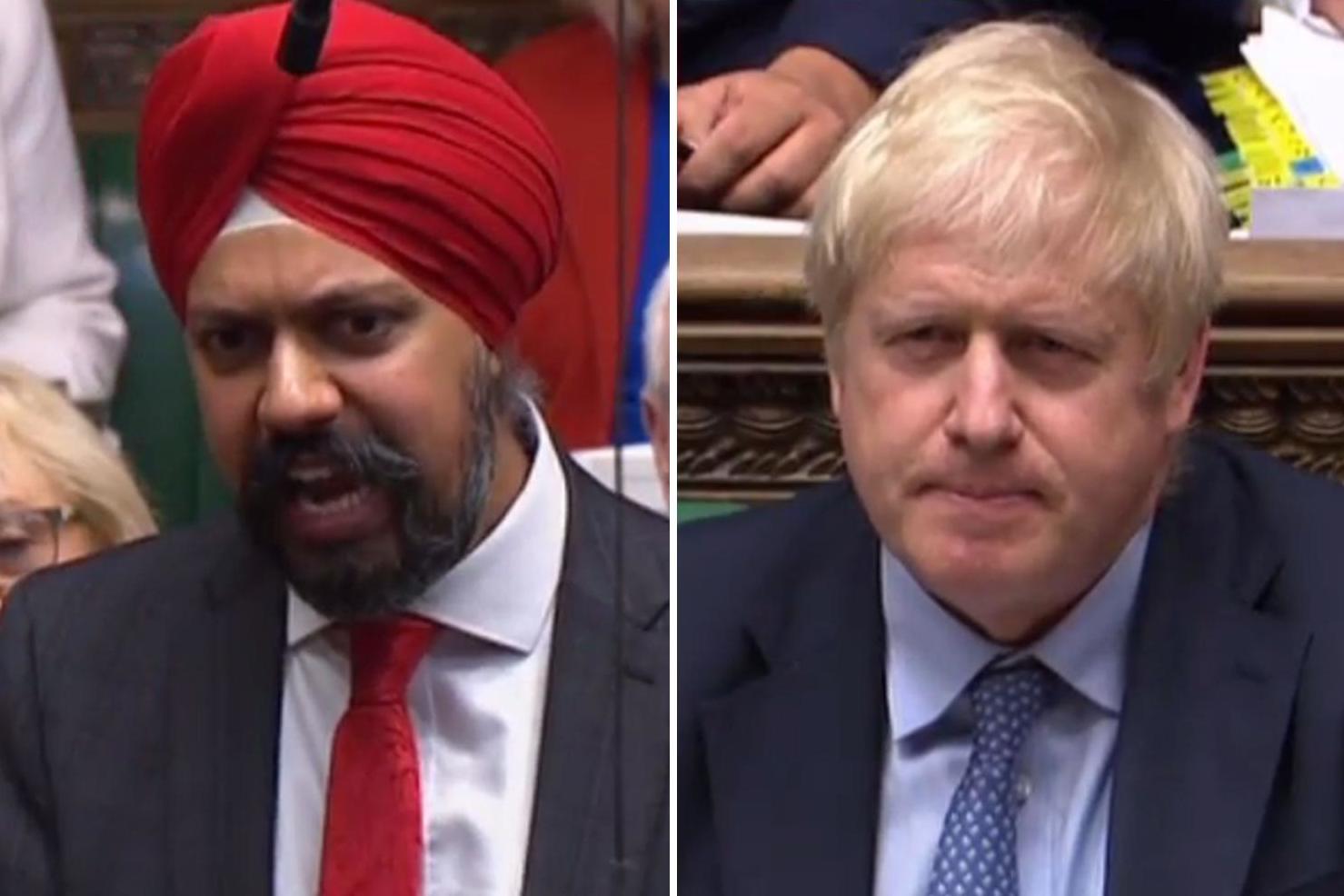 Categories: Latest News
Wednesday September 18 2019
The Labour MP, Tanmanjeet Singh Dheshi, has become something of a parliamentary hero in recent times. Few could have missed Prime Minister Boris Johnson's significantly less than perfect record in his dealings with minority communities throughout his career. However, in a powerful speech in the House of Commons on the 4th of September, 2019, Mr Singh confronted the Prime Minister about this record with such passion that it prompted a round of applause from his Labour peers (something which is not generally allowed in Parliament, but in the age of Brexit, it is perhaps not the only parliamentary rule being bent).
Mr Singh challenged the Prime Minister on his Islamophobic remarks in the now infamous article he wrote for the Times in 2018, in which he described Muslim women as "bank robbers" and "letterboxes", and demanded that Mr Johnson apologise for his remarks about "already vulnerable" Muslim women.
While the Prime Minister claimed the article to be a "liberal defence of everybody's right to wear whatever they want", this liberal defence does not seem to extend further than Mr Johnson's own narrow and ethno-centric perspective. Indeed, Mr Johnson belittled the experiences of veiled women by describing the burka as "oppressive", "weird" and a form of "bullying", thereby leaving little scope for the agency and self-determination of Muslim women themselves. Any liberal defence of the right to dress as one pleases must include protection for Muslim women to choose to dress according to their religious and cultural convictions.
Mr Johnson further concluded the article by stating that there were only a few Muslim women who wore the burka in the UK and said: "one day, I am sure they will go". The implications of such a statement are clear: the religio-cultural practices of such women have no place in British society. It is essential that Mr Johnson acknowledge the impact that the words of someone in his position have on society. If he is to be a leader, he must take responsibility for his role in in setting the acceptable moral, social, and ethical standards for our society. When figures such as Mr Johnson make derogatory and discriminatory statements about minority communities, they are tacitly condoning that discrimination at every level of society.
In the month following the publication of his article, Islamophobic hate crime incidents rose by 40.24% in London as reported by the Metropolitan Police Service. While it obviously cannot be said for certain that this rise was explicitly due to Mr Johnson's comments, MEND's IRU did indeed receive reports from at least one woman who was verbally harassed using the words "letterbox".
Over recent years, several organisations, including MEND, the Muslim Council of Britain (MCB), and Hope Not Hate, have repeatedly called for an independent inquiry into the prevalence of Islamophobia within the Conservative Party. In his speech, Mr Singh demanded to know when the Prime Minister will 'finally order an inquiry of Islamophobia' in the party. In a TV debate during the Conservative Leadership race, Mr Sajid Javid announced that all of his leadership rivals would commit to an independent investigation of Islamophobia in the party if elected. While there was no vocal agreement from his opponents, each "appeared to nod and express agreement", to which Mr Javid declared "It's great that we all agree on that". Despite this, even before he was elected the new Prime Minister, Boris Johnson, had already backtracked on this commitment, announcing that he is instead in favour of a "general investigation" into all types of prejudice.
Mr Johnson's response to Mr Singh demonstrated once again, his unwillingness to address the issue of Islamophobia within his party and to take responsibility for his remarks. In what was arguably quite a painful defence, the Prime Minister spoke of his "Muslim ancestry" and being "related to Sikhs" (such a defence would perhaps be comical if it weren't so tragically reminiscent of the adage "I'm not a racist; I have a Black friend"). Unfortunately, shared heritage and vague personal encounters do not guarantee understanding of religio-cultural issues, nor do they remove privilege acting as a barrier that prevents one from understanding the experiences of others. Moreover, they do not eradicate the need to take responsibility for the impacts of one's words.
As Prime Minister, it is incumbent upon Mr Johnson to ensure the cohesion, safety, and prosperity of every citizen of this nation. This must begin with him publicly disavowing the regrettable racist and disparaging comments he has made on multiple occasions towards members of Britain's ethnic and religious minorities, resulting in their victimisation, harassment, and "othering". This is particularly the case with Muslim communities in the UK.
In the words of John Maxwell, "A leader is one who knows the way, goes the way, and shows the way".
MEND call upon the Chairman of the Conservative Party to initiate an immediate independent inquiry into Islamophobia within the party, with a view to explicitly including protections against Islamophobia in the Members' Code of Conduct. If the party fails to do this, we urge the Equalities and Human Rights Commission to use its statutory enforcement powers to initiate an immediate independent inquiry into Islamophobia within the Conservative Party.