MEND responds to criticism from Iain Duncan Smith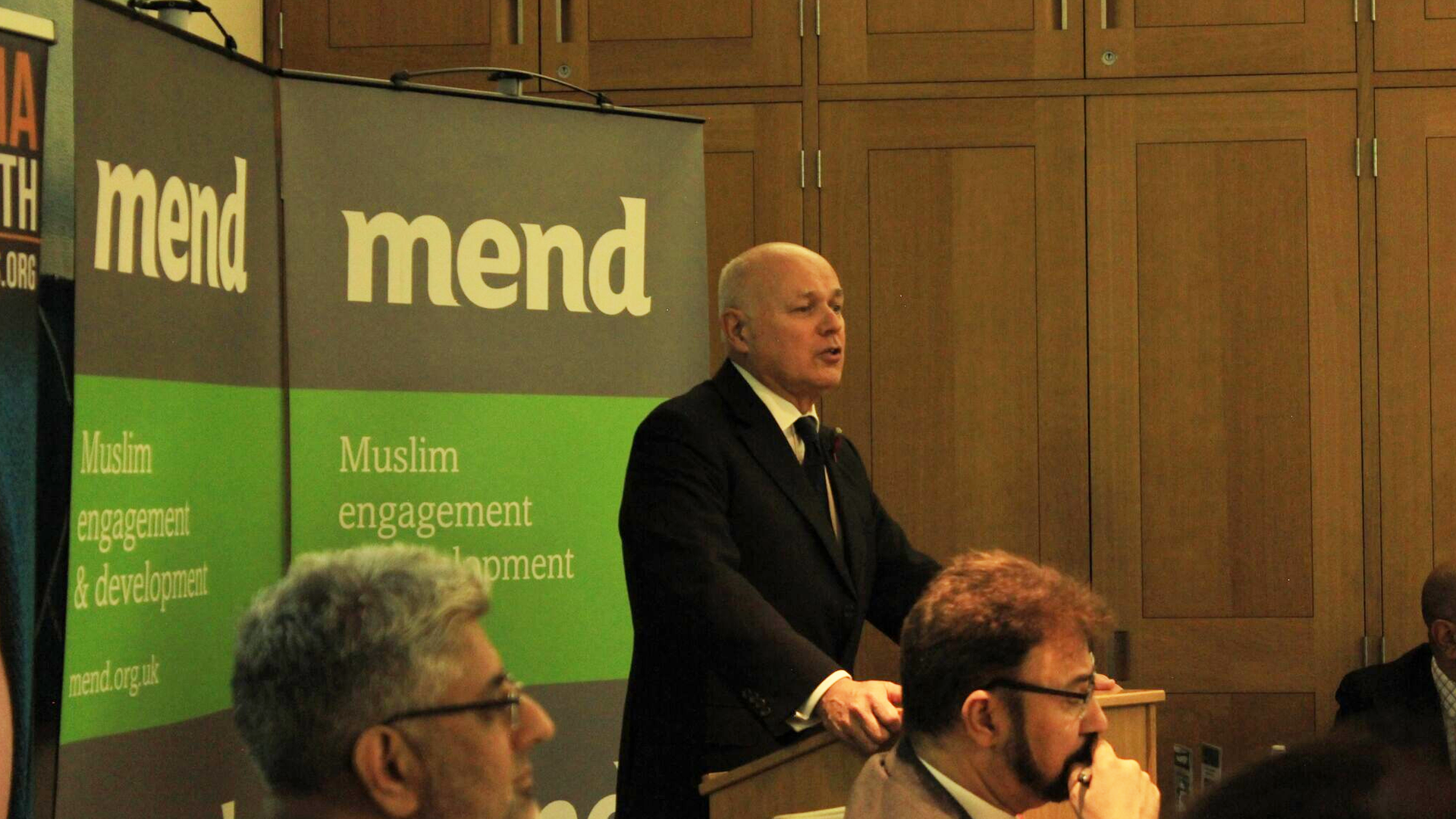 Categories: Latest News
Friday November 09 2018
We understand that since attending the launch of our Islamophobia Awareness Month in Parliament, the Conservative MP Iain Duncan Smith has issued a statement clarifying he does not support MEND. This does not particularly trouble us since supporting the issue of tackling Islamophobia, and more importantly working to eradicate it, is more important than supporting any one organisation.
However, our concern is that he also used the post to suggest that we are not a "force for 'community cohesion". Firstly, we note a conspicuous absence of any analysis of our positive work. We wish to remind Mr Duncan Smith of the appalling attack on one of his Muslim constituents in 2016, and the subsequent protest against this organised by MEND and Stand Up to Racism with the support of Waltham Forest Council of Mosques. Hundreds of people attended this event and we invite readers to decide for themselves as to whether we contributed to community cohesion or created division.
Nor does Mr Duncan Smith acknowledge our work in the Islamophobia Response Unit which has supported hundreds of victims of both hate crime and discrimination; our free Islamophobia exhibition dispelling stereotypes and showcasing positive British Muslim role models; or our provision of free masterclasses on media and political engagement which have empowered over 3,000 people in the community. It would also have been worthwhile to mention our Working Groups in towns and cities up and down the country, that have constructively engaged with councils, police and schools to tackle hate crime and Islamophobia.  Finally, Mr Duncan Smith may be unaware that institutions such as the World Economic Forum and the Office for Democratic Institutions and Human Rights have commended our work.
As evidence for his suggestion that we are not a "force for 'community cohesion", Mr Duncan Smith cites our opposition to the appointment of Sara Khan as Commissioner for Countering Extremism earlier this year. We would suggest that if this is what defines an organisation as not being a "force for 'community cohesion", it is imperative to consider the voices across the political spectrum who also opposed her appointment at the time, including Baroness Warsi (Conservative), Naz Shah MP (Labour) and Baroness Hussein-Ece (Liberal Democrat).
More importantly, over 100 Muslim organisations Imams and individuals, including the Muslim Council of Britain, FOSIS (Federation of Student Islamic Societies) and the Association of Muslim Lawyers signed a letter to the Home Secretary criticising Ms Khan's appointment on the grounds of her lack of qualifications for the role, dearth of grassroots credibility amongst the Muslim community, and concerns over transparency. The signatories included the Waltham Forest Council of Mosques, which includes the mosque in Mr Duncan Smith's own constituency, Chingford Mosque. It would be useful for Mr Duncan Smith to clarify if he also considers this cacophony of politicians and community organisations to be damaging to community cohesion for articulating their concerns over Ms Khan's appointment.
Mr Duncan Smith further suggests that he will now have discussions with Ms Khan as to how he can ensure his colleagues are "made aware of the nature of groups whose activities do not promote community cohesion". Firstly, one must question for what purpose he will now conduct this campaign. One assumes that this will be to dissuade his colleagues from engaging with us. One must, question exactly why this is? The tenets of democracy dictate that the public should be free to meet with their elected politicians. Mr Duncan Smith's statement appears to suggest that he and Ms Khan will seek to establish a list of 'undesirable' organisations to ensure that only the 'the right Muslim organisations' are allowed to enter into our hallowed Parliamentary spaces. This is the very definition of structural Islamophobia, i.e. the denial of equal rights of access to political structures to certain organisations. It would be surprising for Mr Duncan Smith to seek to institutionalise the very thing he publicly opposed so eloquently at our event.
Secondly, it is indicative of a severe lack of confidence in Mr Duncan Smith's Parliamentary colleagues if he feels that they need to be 'told' whom they can and cannot engage with. In the spirit of democracy and democratic debate, we would argue that a more constructive approach would be to encourage dialogue and discussion with varying sides of an argument in order arrive at an informed position.
MEND, like many other organisations, has met with MPs from across all political parties. Our work speaks for itself and we urge Mr Duncan Smith to examine it.  We have not always agreed with the parliamentarians we have met on every issue, but this is the very nature of political engagement and debate in a democratic society. To attempt to shut down such debate is inherently undemocratic.
Indeed, Mr Duncan Smith's parliamentary colleague Dominic Grieve QC MP, chaired the Citizens Foundation's Missing Muslims report which recommended inter alia that the Government should end the "apparent boycott of certain organisations" and that this "could best enable the Government to hear from the widest possible cross-section of the UK's Muslim communities". It seems that far from ending such a boycott, Mr Duncan Smith perhaps wants to institutionalise the boycott of groups like MEND, simply for being critical of governmental policies and positions.
Finally, the focus upon Ms Khan within Mr Duncan Smith's argument is cause for alarm. In her role of 'countering extremism', it would be worrying if Mr Duncan Smith is implying that she is the sole arbiter of which Muslims organisations are to be able to enter Parliament to even talk to MPs and Member of the House of Lords. We look forward to hearing more on this new proposed aspect of her role.
Since he has publicly stated his opposition to Islamophobia, we have sincerely invited Mr Duncan Smith to meet with us to allow us to address his concerns and present the positive benefits of our work, as indeed many members of both Houses have already taken the time to do. We hope that he takes this opportunity to meet, reflect and to retract and apologise for the above comments, which it appears were made without a clear and comprehensive understanding of our work. We await a response to our invitation.