School questions Muslim pupil after he uses term "eco-terrorism" in classroom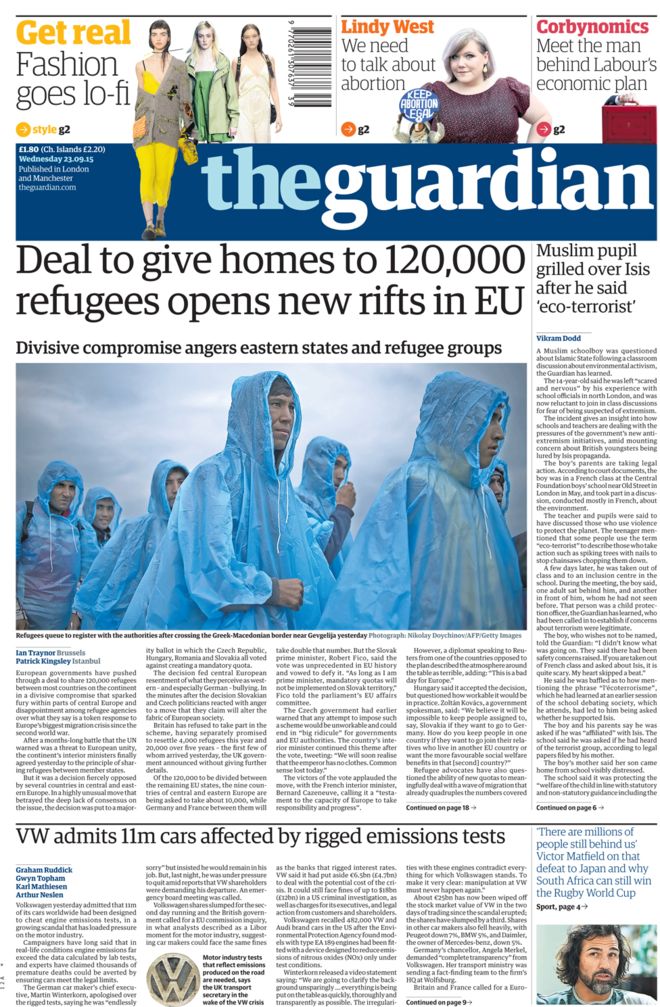 Categories: Latest News
Wednesday September 23 2015
The Guardian front page today reports on legal action taken by parents of a pupil at a North London school after he was referred to a child protection officer for using the term "eco-terrorism" in a classroom discussion about environmental activists.
The boy, who has not been named, is a pupil at Central Foundation school. In May of this year, he was engaged in a classroom discussion about the environment and spoke up to say that individuals who take extreme measures to protect the environment are sometimes called "eco-warriors" and the activity labelled "eco-terrorism".
The 14 year old states that a week later he was subjected to a 'referral' in which a child protection officer asked him if he was "affiliated" to IS. The boy's parents who have launched legal action against the school said the experience left him feeling "scared and nervous" and that the school had acted in a discriminatory manner by singling him out because of his Muslim background.
The pupil was taken out of class a week after the discussion in which he uttered the term "eco-terrorism", and taken to an "inclusion centre" where one adult sat behind him and a child protection officer sat in front of him asking questions about IS and terrorism. The boy's mother criticised the school's behaviour saying "There was nothing in what he said that warranted him being taken out of class and treated as a criminal."
Central Foundation school has responded to the parent's legal action stating:
"It is unarguable that at the relevant time (May 2015) the school was required as part of its safeguarding responsibilities to be aware of the dangers of radicalisation.
"The approach of alerting the designated child protection officer by email regarding inappropriate references to terrorism and for [her] to have short 10-minute conversation with the claimant was a reasonable and proportionate response."
The incident provides an important insight into how schools and teachers are responding to the government's Prevent duty, amid growing criticisms that teachers are being forced to play a role in the "surveillance state".
Last week David Anderson, the government-appointed independent reviewer of terrorism, said Prevent was causing widespread anger among Muslim communities. In his annual review of terrorism legislation, he stated: "While good work is undoubtedly done under Prevent, it is also the focus of considerably more resentment among Muslims…".
The Prevent duty has also been criticised with evidence of Muslims being targeted for espousing political views and questionnaires being distributed which "profile" Muslim pupils with questions probing their religious beliefs.
Only recently, a Muslim pupil found himself questioned by a Prevent officer and was "referred" under the Channel programme, designed to intervene in cases of young people deemed vulnerable to radicalisation, because he spoke up against Israeli occupation of the Palestinian Territories. Such incidents have given rise to the claim that the government's counter-radicalisation strategy is stifling freedom of expression and curtailing civil liberties.
The strategy has also been criticised by a number of academics and teachers, some of whom have stated that teachers were being used as "front-line storm troopers" to spy on pupils as a result of poor government guidelines about combating radicalisation. Many have also strongly criticised it for its foreclosing on free debate, academic freedom and forcing teaching staff to become "spies". Early evidence from schools and teachers suggests the new duty is having the opposite effect to schools being "safe spaces" to discuss such issues.
Professor Louise Richardson, chancellor of Oxford University and terrorism and counter-terrorism expert, has argued that if the government wants to combat radicalisation then this must be initiated within a conducive environment rather than through scaremongering. She said it was "imperative that we have a place where radical ideas can be expressed and challenged".
A similar point was also brought up by the boy's mother who said that Prevent was counter-productive to its purpose stating: "If the three girls from Bethnal Green who went to Syria, if they had said in class: 'My dream is to marry a jihadi', their peer group would probably have slapped them down".