Roma and Muslims 'least tolerated' minorities in Europe
Categories: Latest News
Wednesday June 10 2015
The polling agency YouGov published poll findings last week about intolerance in western Europe and the minority groups most affected by prejudice, though from media coverage you would not likely be aware of it.
The poll has received scant coverage in the mainstream press despite being published the day after the announcement that Tony Blair was to head a new pan-European body, the European Council on Tolerance and Reconciliation, to tackle hate and intolerance in Europe. Blair's announcement did receive copious coverage as did claims in an article jointly authored with ECTR president, Moshe Kantor, about the growth in anti-Semitism in Europe and the proposed work of the ECTR to counter the effects of the economic downturn on European minority groups.
The YouGov results make interesting reading and reaffirm earlier empirical studies on the prevalence of anti-Muslim prejudice in European societies and its steady growth.
The YouGov poll questioned 7,230 people in seven European countries: 1667 in the UK, 1016 in Germany, 1004 in France, 1009 in Denmark, 1010 in Sweden, 970 in Finland and 554 in Norway.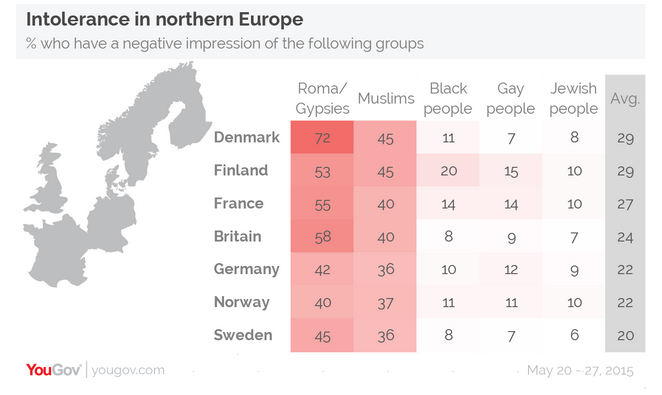 The sample was asked the question "Do you have a positive or negative impression of the following groups: Roma/Gypsies/Travellers, Gays, Muslims, Jews, Black, Christians, young people and the elderly?"
The poll results show that across the seven countries polled Roma/Gypsy/Travellers suffer the highest rate of negative impressions with 72% of people in Denmark holding fairly or very negative impressions (the highest across all 7) and 40% of Norwegians saying the same (the lowest across all 7).
The second minority group to suffer the highest rate of negative impressions across all seven countries are Muslims with 45% of Finnish and Danish people saying they held fairly or very negative impression of Muslims (highest across all 7 countries) and 36% of Swedes and Germans saying the same (lowest rate among the 7 countries).
The rate of anti-Muslim prejudice across all countries ranges from over a third to nearly half of people expressing negative views about Muslims.
The level of prejudice expressed towards Blacks, Gays and Jews is remarkably lower with the exception of Blacks in Finland (20%) which is explained as resulting from Finland having a largely white population.
The YouGov results – which have received little media coverage anywhere – reinforce the qualitative analysis by the Centre for Dynamics of Ethnicity in Manchester which recently outlined the reasons for persisting anti-Muslim prejudice in the UK as other forms of racism are on the decline.
The YouGov results present poignant questions for the work of the ECTR, already alluded to by Chris Doyle in his critique of its apparent lack of interest in anti-Muslim prejudice and hate crime. It also presents an important challenge to the work of the Home Office and Communities and Local Government Department both of which have in the last parliament been somewhat lackadaisical in their responses to tackling Islamophobia in the UK.
You can find the YouGov results here.