Nearly half of conservative party members wouldn't accept a Muslim Prime Minister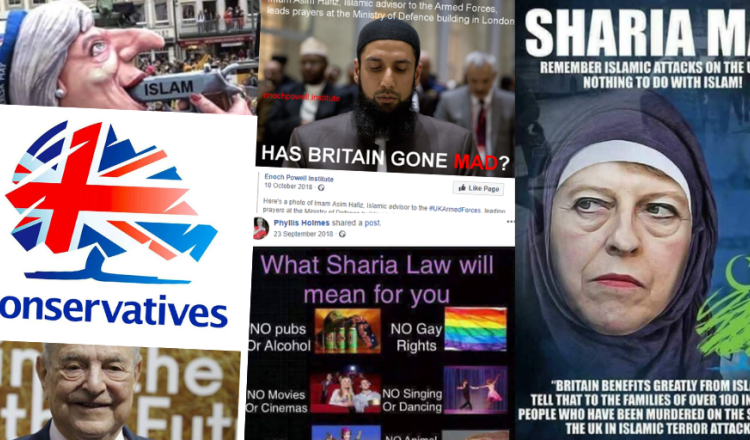 Categories: Latest News
Tuesday July 16 2019
A recent poll from Hope Not Hate researching the scale of Islamophobia in the Conservative Party  has found that nearly half of Tory members (43%) would not want a Muslim Prime Minister. This suggests that Islamophobic attitudes permeate the party membership and highlights the need for a robust approach to tackling this problem.
The poll represents a larger crisis engulfing the Tory party. The lack of robust rebuttals and sanctions for Islamophobic rhetoric espoused by prominent and leading figures in the party serves as a tacit endorsement of such views in the eyes and minds of the Tory membership. Furthermore, the party will remain incapable of rooting out and eliminating Islamophobic hate for as long as they fail to officially endorse a holistic working definition of Islamophobia in order to understand the problem itself. A pattern of racist and Islamophobic rhetoric goes virtually unchallenged across all levels of the party, to the extent that Boris Johnson is able to compare veiled Muslim women to "letterboxes" and "bank robbers", and yet remain the frontrunner in the leadership race, without even an apology for the rhetoric used. Considering the levels of Islamophobic sentiment that has infiltrated the party membership, it is essential that political parties, representatives, and candidates remove themselves from a game of political-point-scoring where prejudicial, Islamophobic, and divisive pandering is a tactic for garnering valuable votes.
The Tory party's ineffectual handling of Islamophobic incidents propogated by prominent individuals serves as a tacit endorsement of Islamophobic rhetoric amongst its membership base. Mr. Zac Goldsmith has been widely condemned for his deployment of Islamophobic campaign tactics during his mayoral campaign against Mr. Sadiq Khan in 2016; tactics which have been described as "dog whistle politics". Peter Oborne points out that Mr. Goldsmith's campaign "concentrated on Khan's religion, alleging that Khan is a friend and apologist for "extremists" and cannot therefore be trusted to run a great city like London." Mr. Goldsmith defended his rhetoric, including describing Mr. Khan as being 'radical' and 'divisive', stating that: "He is a fundamentally partisan figure in politics. These are the terms that I use and will continue to use to describe Sadiq Khan". As noted by Simon Hattenstone, "Surely he must be aware that these words are loaded when applied to a Muslim?" The rhetoric employed by Mr. Goldsmith was further bolstered by Mr. David Cameron, the then Prime Minister, who used Prime Minister's questions to further launch accusations that Mr. Khan associated himself with alleged extremists. As noted by Peter Oborne at the time, "if Goldsmith's campaign succeeds it tells every single British Muslim that there is no role for them anywhere in the British democratic system." Despite deploying such tactics, Mr. Goldsmith was reselected as the Conservative Party candidate for Richmond Park by Theresa May in 2017.
Hope not Hate's survey unearthed that two-thirds of members believe there are parts of Britain which operate under the sharia, while almost half believe in the sensationalist myth of 'no-go zones' for Muslims. These factually incorrect assertions are often propagated by Islamophobic activists and fringe media outlets whose stories have frequently been shared by Conservative MPs, Councellors, and Candidates. Bob Blackman, MP for Harrow East, is an example of one such MP who has been accused of spreqading such misinformation and Islamophobic rhetoric with no disciplinary action imposed by the Conservative party. These instances include:
1. February 2016: Blackmanre-tweeted Stephen Yaxley-Lennon, who is commonly known by his pseudonym 'Tommy Robinson.' Mr. Yaxley-Lennon has been criticised for his far-right and Islamophobic views, including referring to Muslims as "enemy combatants who want to kill you, maim you and destroy you", which he has espoused during and since his time as the leader of the EDL (English Defence League), a far-right movement which focuses on promoting anti-Muslim hatred in the UK. Since leaving the EDL, Mr. Yaxley-Lennon launched a similar organisation, Pegida UK, which is a self-described anti-Islam group. Mr. Blackman retweeted comments from Mr. Robinson, including one that stated, "Hindu temple attacked, priest stabbed to death in Bangladesh… the reality of being a minority surrounded by Islam". While highlighting genuine issues across the world is not in itself Islamophobic, the overwhelming negativity of Mr. Blackman's focus and his use of far-right sources demonstrates a pattern of promoting unbalanced representations and demonisations of Muslims as a monolithic group.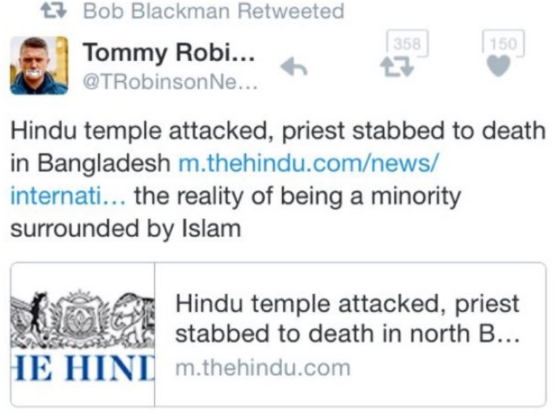 2. October 2017: As part of a parliamentary event entitled 'Tolerating the Intolerant', Mr. Blackman hosted a prominent anti-Muslim extremist, Mr. Tapan Ghosh. Mr. Ghosh is a far-right Indian Hindu-nationalist, who has supported the genocide of Rohingya Muslims in Burma; called upon the United Nations to control the birth rate of Muslims; and suggested that Muslims should be forced to renounce Islam if they migrate to Western countries.

3. March 2018: Blackman used his Facebook account to share a story from a US-based Islamophobic website, Hardcore News USA, which had an inflammatory title: "Muslim Somali sex gang say raping White British children 'part of their culture'.
4. May 2018: Investigations undertaken last year found that Mr. Blackman was also a member of several deeply Islamophobic and racist Facebook groups. According to Vice, "Blackman appears to have been added unwittingly to all of these groups by his Facebook friends, and in the normal course of events would have received a notification upon being added." These groups included:
Britain for the British: a group which has been found to host comments glorify Hitler and to call for violence against the Mayor of London, Mr. Sadiq Khan.
For Britain Political Party: a group set up by "supporters and members of Anne Marie Waters party For Britain." Ms. Marie Waters has previously claimed that Islam is "evil" and is "an expansionist, political, totalitarian and supremacist faith, commanded to world domination."
Pendragons Fight Back: a deeply Islamophobic group that espouses White supremacist views and are linked to The White Pendragons. In 2018, The White Pendragons disrupted a speech by the London Mayor, Mr. Sadiq Khan, attempting to restrain him under a citizen's arrest, reportedly because Mr. Khan is Muslim.
June 2018: it was reported that Mr. Blackman shared a "fake news" story, entitled "BREAKING: Hindu woman Tina Rajawat stabbed to death by her Muslim driver Naeem Khan for rejecting marriage proposal in #Udaipur! #LoveJihad". The term "Love Jihad" is an accusation that is often used to inflame community tensions between Hindus and Muslims in India.
In discussing Theresa May's campaigning in Harrow East alongside Bob Blackman, Peter Oborne, the former Daily Telegraph political correspondent, argues that "Theresa May cannot claim ignorance of Blackman's history of slurs against Muslims. I can reveal that she has personally been warned about him by at least one senior Tory. I also happen to know that the previous Tory Party chairman, Patrick McLoughlin, was also warned about Blackman. (I cannot say whether the new chairman, Brandon Lewis, has been warned too.) This means that the prime minister travelled to Harrow last week in full knowledge that Blackman is an anti-Muslim bigot."
Over recent times, several organisations, including Muslim Engagement and Development (MEND), the Muslim Council of Britain (MCB), and Hope Not Hate, have repeatedly called for an inquiry into the prevalence of Islamophobia within the Conservative Party. These calls have largely either been ignored or dismissed as irrelevant by the party leadership, including Mr. Brandon Lewis, Mr. Henry Smith, Ms. Nicky Morgan, and many others.
However, interesting and potentially positive developments have emerged during the course of the race for the Conservative Party leadership since Prime Minister, Theresa May, announced her resignation in May. During a TV debate in June, it appears that Mr. Sajid Javid announced that all the rivals for the leadership would commit to an independent investigation of Islamophobia in the party if elected. While there was no vocal agreement from his opponents, each "appeared to nod and express agreement", to which Mr. Javid declared "It's great that we all agree on that".
MEND calls upon the Chairman of the Conservative Party to initiate an immediate inquiry into Islamophobia within the party, with a view to explicitly including protections against Islamophobia in the Members' Code of Conduct.
If the party fails to do this, we urge the Equalities and Human Rights Commission to use its statutory enforcement powers to initiate an immediate independent inquiry into Islamophobia within the Conservative Party.
We also call upon parliamentarians to:
Commit to the adoption of an agreed definition of Islamophobia through independent consultation with grassroots Muslim organisations that takes into account the process of Islamophobia, the actions that qualify as Islamophobic, and the impact of Islamophobia.
Commit to proactively engaging and consulting with representative and grassroots organisations within British Muslim communities, including but not limited to Muslim Engagement and Development.