Man to appear at Dundee Sheriff Court after mosque attack last week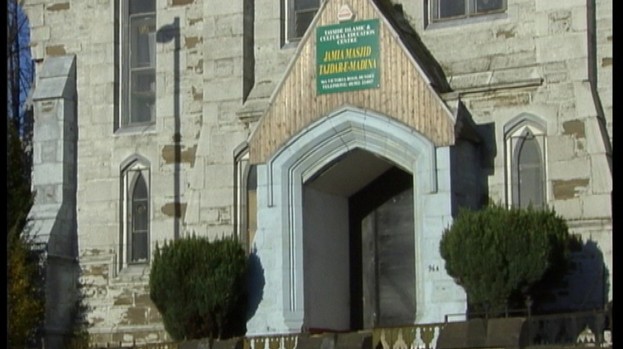 Categories: Latest News
Monday December 14 2015
The Courier, BBC News and STV News all report on a man who allegedly wandered into a mosque in Dundee and began vandalising the place of worship during Friday prayers last week.
Witnesses at Taj Dar-e-Madina Mosquedescribed seeing a suspicious-looking man wander into a children's prayer group before allegedly punching glass frames containing verses of the Qur'an causing them to shatter and intimidating young worshippers.
The incident took place at approximately 1:30pm on 11 December 2015 during Friday prayers at the mosque. The man allegedly uttered disparaging remarks about the Prophet Muhammad and struck glass framing with such force that his hands "were left covered in blood".
Committee member Qaiser Habib, who was upstairs at the time with more than 100 mosque attendees, said: "More than 100 of us were upstairs for afternoon prayers and suddenly heard a lot of noise down the stairs. Someone phoned the police quite quickly, but before that the man who had come into the mosque had run about punching glass frames and saying things against Islam. The children who were in the room told me he was saying things against the Prophet, but he didn't seem to speak much English. I've never known of anything like this to happen in any of the city's mosques before. Dundee is a peaceful city but the other mosques in the city will now be wondering which one of them could be next. It's important that we raise awareness of these kind of issues, to ensure that they don't happen again."
Police Scotland confirmed that a 38-year-old man was arrested on suspicion of aracially-aggravated breach of the peace, vandalism and resisting arrest and is expected to appear at Dundee Sheriff Court today.
A Police Scotland spokesperson said: "Police received a call at 1.32pm, reporting a male vandalising property within Victoria Road Mosque. We attended and traced a 38-year-old man who was arrested for a racially aggravated breach of the peace, vandalism and resisting arrest. The man will be kept in custody and will appear at Dundee Sheriff Court on Monday."
The latest incident is one of a large number of racial and religious hate crimes that have taken place at mosques or Muslim run establishments since the Paris attacks on 13 November. Last month, in London a man was seen trying to set Finsbury Park Mosque on fire in what was described by the Metropolitan Police Service as a hate crime. Two mosques in Wales were vandalised with anti-Muslim graffiti and a cultural centre used by Muslims in Glasgow was burned down in a suspected arson attack.
Police Scotland announced last month that 64 race and religious hate crimes had taken place in the first week following the Paris attacks. In London, statistics released by the Metropolitan Police Service revealed Islamophobic incidents in the capital in the aftermath of the Paris attacks on 13 November increased more than threefold.