Are British Muslims "quietly condoning" extremists?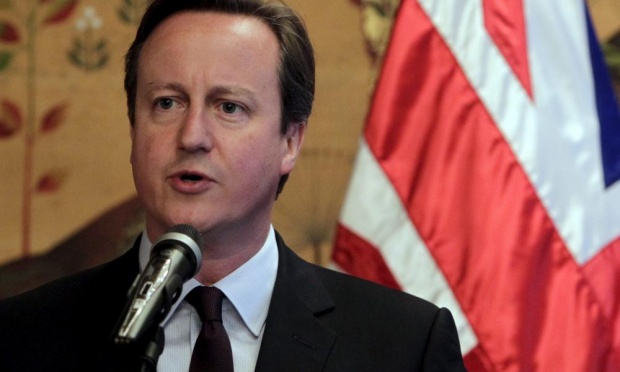 Categories: Latest News
Friday June 19 2015
Just as his address to the Australian parliament last November heralded the introduction of legislation further curtailing Muslim civil liberties and reinforcing the official narrative that "ideology" is the cause of extremism and radicalisation, so today's address by the Prime Minister to the Global Security Forum in Bratislava sets the scene for the Counter-extremism Bill outlined in the Queen's Speech last month.
The Daily Mail, Daily Telegraph, Daily Mirror, Daily Express, Financial Times (£), The Times (£) and Guardian all cover the PM's speech to the Global Security Forum.
True to form, PM Cameron has done it not once, not twice, but three times with today's address in Bratislava outlining what has been trailed in announcements about the Counter – Extremism Bill with its focus on "non-violent extremism", censorship, and singling out of Muslims all the while espousing to tackle "all forms of extremism".
It is deeply ironic that the PM should feel the need to address the subject of national security from foreign shores, just as he did with his Munich address in 2011 which paved the way for the "revised" Prevent strategy. The "revised" version merely reads like a blip in the U-turn back to the draconian efforts once pursued by Hazel Blears to marginalise mainstream Muslim organisations in favour of a neo-con driven, ideology based, evidence-base lacking, conveyor belt theory affirming shambles that is the Government's current approach.
It is also deeply unsettling that as the Conservatives look to introduce measures that disproportionately discriminate against and alienate British Muslims, scaremongering about how they are "quietly condoning" extremist narratives is intended to overcome criticism of the Government's cavalier disregard for the very "British values" it claims to defend. By pointing the finger at Muslims as part of the problem, it is clear that the Government is hoping its assault on Muslim civil liberties will itself be "quietly condoned".
The Daily Mail front page today is indicative of this with its headline, "UK Muslims helping jihadis", as is the Daily Telegraph front page, "Muslims must do more to resist ISIL".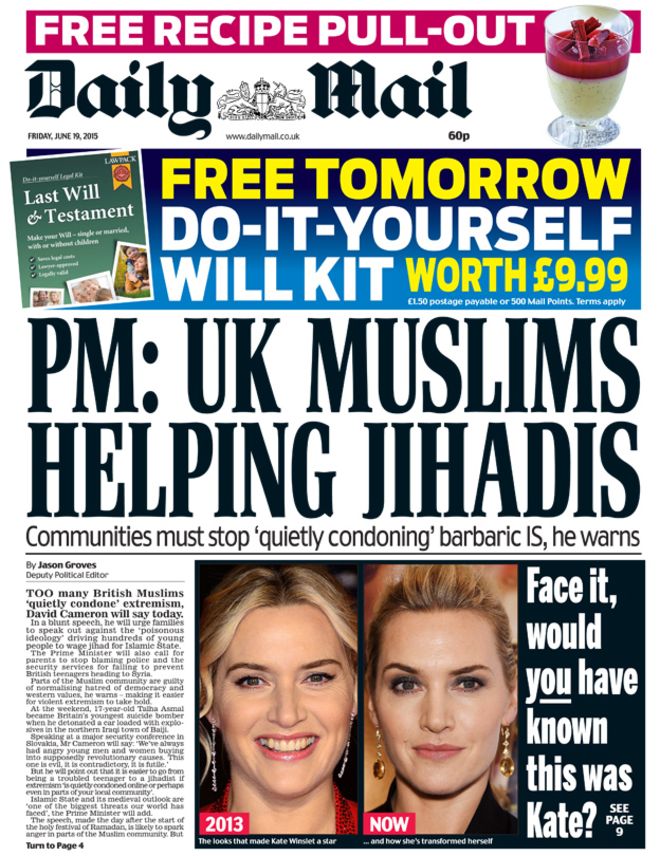 The Daily Mail's reaction is perhaps to be expected from a newspaper that has ridiculed any suggestion that the British state is to blame for the radicalisation of young Muslims with its campaign against the Muslim civil rights group, CAGE and their comments about Mohammed Emwazi's transformation to 'Jihadi John'.
The right wing press's championing of the official narrative harks back to Simon Kuper's reflective piece in the Financial Times about the symbiotic relationship between the West's alienation of Muslim communities and ISIL's exploiting the chasm. "Westerners turn each terrorist attack into a debate about Islam" and urge "European Muslims to condemn terrorism as Muslims, and to "integrate" in the west. Jihadis love this: it's exactly the "us and them" narrative that they themselves are pushing," he wrote. It's a rehearsal of the dichotomy that has persisted since 9/11 and, it seems, little will change no matter how much Muslims speak out against extremists who violate their religion and Governments who violate their civil rights.
As with the fast tracking of the Counter Terrorism and Security Act, which is responsible for the discriminatory treatment in schools reported by Muslim parents, so the suggestion that ISIL's lure to young Muslims "has been given this credence" in Muslim communities leading the way for "simmering prejudice" to turn "into murderous intent".
The PM repeated arguments that are entrenched in Conservative thinking on the issue of radicalisation despite evidence and empirical analysis suggesting that the "it's ideology, stupid!" approach is misguided. He said, "Only if we are clear about this threat and its causes can we tackle it. The cause is ideological. It is an Islamist extremist ideology one that says the West is bad and democracy is wrong that women are inferior, that homosexuality is evil. It says religious doctrine trumps the rule of law and Caliphate trumps nation state and it justifies violence in asserting itself and achieving its aims.
"I am clear that one of the reasons is that there are people who hold some of these views who don't go as far as advocating violence, but who do buy into some of these prejudices giving the extreme Islamist narrative weight and telling fellow Muslims, "you are part of this".
"But if we are to really tackle this threat, we need to confront extremism in all its forms, violent and non-violent, to stop our young people sliding from one to the other."
The references to "non-violent extremism" is consistent with the Government's pledge to introduce measures such as "mosque closure orders", "extremism disruption orders" and "censorship" rules for broadcasting content. It betrays a lack of concern for evidence based analysis, such as that offered by the new vice chancellor of Oxford University, on the importance of education and counter-narrative to challenge extremist ideas.
The PM's focus on "the extreme Islamist narrative" further reinforces the discriminatory approach and impact of counter-extremism policies which are defended as tackling "all forms of extremism" but rarely broach the subject of far right extremism.
It is interesting too that the PM should single out Muslims in his remarks about religious dogma and homosexuality. This week there have been media reports about concerns in Christian circles about the "chilling effect" of the Government's counter extremism proposals on Christians.
The PM's speech goes further to entrench the "us" and "them" narrative with references to "our values" and "our way of life" wedded to a steely determination as the means to confront "tyranny, fascism [and] hatred".
The focus on the intangible, "values" and "way of life" demurs from any reflection of tangible factors that fuel "tyranny, fascism [and] hatred" such as rights violations, economic insecurity, social marginalisation etc. Much easier to offer feel-good homilies than discuss they gritty facts of what causes radicalisation and how we can combat it successfully.
The PM also spoke about the journey young Muslims make away from loving families and homes and a society in which they seemingly enjoy "the freedom and equality that allow them to be who they want to be".
It is difficult to appreciate how such rose-tinted projections of what it feels like to be a British Muslim might materialise in policy circles. One can only assume that the PM's speechwriters and policy advisors have taken to heart assumptions that British Muslims have never had it so good while Muslim parents mull over the disturbing profiling of their young children, Muslim women deal with the trauma of being singled out for anti-Muslim hatred when politicians are not carping on about what they should wear,rising intolerance towards Islam and Muslims make many worry fear about their future as British Muslims and the wider populace strongly associates "terrorism" with Muslims.
Peter Oborne in the run up to the general election asked why Conservatives are ignoring the Muslim vote. Anyone reading Cameron's speech today will worry that it is not just their vote that the Conservatives are not interested in, but their voices. The consequences are far worse than the "trust deficit" that has built up between Muslims and political institutions. As Baroness Warsi warned earlier this week, the Government's approach risks fuelling radicalisation itself.