Let's Talk About…End of Life Care: The importance of cultural competence in palliative care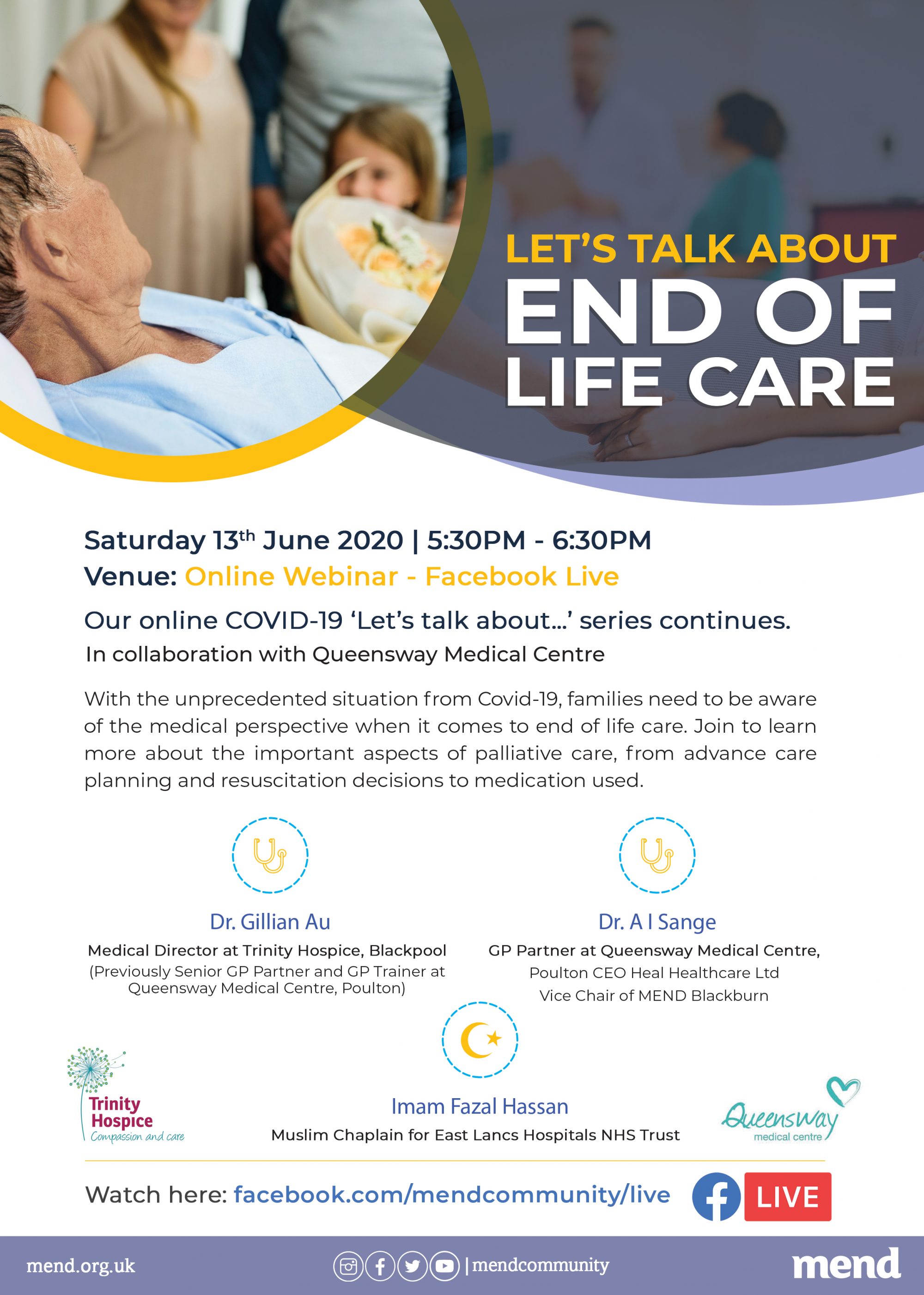 Categories: Past Event Articles
Wednesday June 24 2020
On Saturday 13th June 2020, MEND Blackburn, in collaboration with Queensway Medical Centre, hosted an online webinar to discuss End of Life Care, especially in a BAME context. Dr Asif Sange chaired a panel with Dr Gill Au, Medical Director and Trinity Hospice, and Imam Fazlurrehman Hassan. Muslim Chaplain for East Lancs NHS Trust. The conversation between the contributors highlighted the importance of ensuring that the wishes and preferences of those from a BAME background are understood by those administering their care.
Rifat Haider, Chair of the Blackburn Working Group, shared her own story and experiences with palliative care. She gave an account of questions she had during the process and what brought her comfort during her time. She spoke about balancing end of life care with her religion and how competent and compassionate staff allowed for the gap between the two to be narrowed.
Throughout the webinar, one of the main topics of conversation was regarding the do-not-attempt-resuscitation (DNAR, sometimes referred to as DNR, DNACPR) order. A DNAR is an order that means medical staff will not attempt CPR. Dr Gill spoke about resuscitations and how only 10% of them are successful and not all patients return to recovered states. She highlighted that a common misconception of DNAR orders is that doctors will stop care once it has been signed. She explained how this is not the case, but instead hydration, nutrition, comfort and pain relief will all still be administered. DNAR is not advance care planning in itself but part of a larger plan agreed by the family and patient. Imam Fazal then discussed how these misconceptions meant that often Muslims would be reluctant to sign forms. He explained how it can be difficult to reconcile one's faith with DNAR. Questions that can run through the minds of families like is DNAR exercising the right to die- something that Muslims do not believe they have, as they are stewards of their body.
Imam Fazal went on to speak about how advanced care planning is not against Islam. He discussed how in some circumstances, medical intervention is mandatory according to Islamic law if the effect is definitive, how sometimes it is just recommended if the effect of the intervention is not definitive. When medical intervention is speculative then it is permissible but not recommended, and when intervention would make a situation worse, then it would be forbidden.
The conversation around DNAR was just one of the many aspects of palliative care that was discussed by our guests. What the webinar highlighted was the importance of medical professionals having cultural competence so they can deliver appropriate health care. By gaining an understanding into how Muslims view medical practices and the thought processes around medical decisions, healthcare workers can fulfil their ethical and moral obligation to their patients.
We'd like to extend our thanks to Rifat Haider for sharing her story, to Dr Asif Sange for hosting the session, and to Dr Gill Au and Imam Fazlurrehman Hassan for taking time out to address this very important issue.
You can watch the entire webinar here on our Facebook page.